Cisco Employee
Mark as New

Mark as Read

Bookmark

Subscribe

Email to a Friend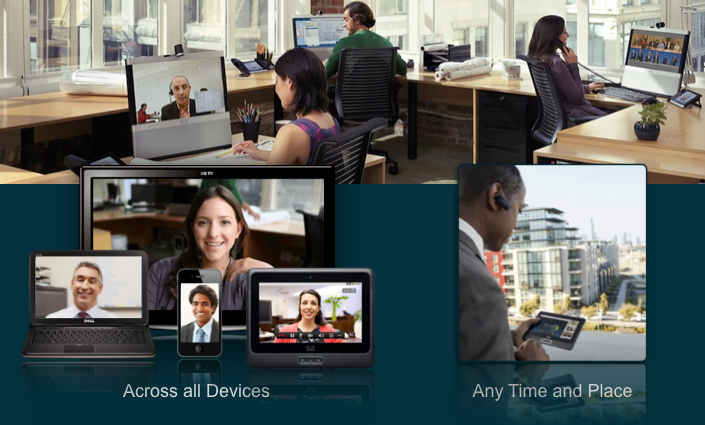 Mobility is a major driving factor transforming companies in today's world. The idea of working all the time from anywhere, to anywhere isn't all that new as companies have been on this journey for over a decade. This high level of mobility has a fundamental impact on connectedness and employee engagement.
Where do I find you? How do I find you? email.. facebook... text... cell phone.. voice mail... video mail? that last one is coming.. it is just a matter of time.
Our work practices have transformed as mobility increases but in many cases the "connectivity" tools can't keep up with the consumerization demand cycle. Relationships can sustain the disconnect for the short term, but in the long term we need faces. As human beings.. we thrive on experience, emotion, personality, energy and inspiration from others "in collaboration". In the workforce we have shared purpose and camraderie with colleagues as well as customers.
"There is one thing that is common to every individual, relationship, team, family, organization, nation, economy, and civilization throughout the world—one thing which, if removed, will destroy the most powerful government, the most successful business, the most thriving economy, the most influential leadership, the greatest friendship, the strongest character, the deepest love. On the other hand, if developed and leveraged, that one thing has the potential to create unparalleled success and prosperity in every dimension of life. Yet, it is the least understood, most neglected, and most underestimated possibility of our time. That one thing is trust. Trust impacts us 24/7, 365 days a year. It undergirds and affects the quality of every relationship, every communication, every work project, every business venture, every effort in which we are engaged. It changes the quality of every present moment and alters the trajectory and outcome of every future moment of our lives—both personally and professionally. Contrary to what most people believe, trust is not some soft, illusive quality that you either have or you don't; rather, trust is a pragmatic, tangible, actionable asset that you can create—much faster than you probably think possible." Covey, Stephen M.R. (2006-10-17). The SPEED of Trust (pp. 1-2). Free Press. Kindle Edition.
Don't allow your new found mobility to compomise relational trust. Using Video for checkins, and meetings not only enhances trust but will allow you to stay connected... working better, faster, and cheaper.. and on a personal note: using video effectively might just be the key to actually attending your seven year olds birthday party in person, or maybe a choir concert or even a football game.. because those types of events NEED face to face.
Mobility is a great thing. Video is a great thing. Use them together to make your business better and your life better! I can "vouch for this model"... My life is better because of both.
You must be a registered user to add a comment. If you've already registered, sign in. Otherwise, register and sign in.