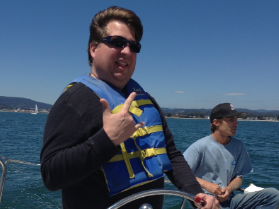 Contributor
Mark as New

Mark as Read

Bookmark

Subscribe

Email to a Friend
In my earlier blog post How Remote Workers Are More Engaged I mentioned my coworker Henry (pictured below) and his idea for a "virtual bump", but what exactly is a virtual bump? During our day to day activities in the office we occasionally "bump" into somebody we're working with on a project. It may be you both happen to be walking down the hall from different directions and meet in the middle. Or you notice them in line behind you at the cafeteria and have lunch together to talk about things. Now consider how often these impromptu conversations carry over into project workflows for things like status updates or ideas to mitigate an issue. The value of a two-minute conversation in a hallway can be quite high as often there is a very specific question that needs to be answered for things to progress and not having to wait for an e-mail or regular meeting keeps the project momentum moving forward.
Henry's idea was to take that same experience and make it virtual. After all, you can only bump into somebody if you both work in the same building or area. Imagine you're sitting at your desk, slightly idle, maybe you've just finished a WebEx meeting and are looking at e-mail when a "virtual bump" notice pops up on your screen. The simple click of an "OK" button and now you're in a real-time video call with the person at the other end chatting away about whatever for a few minutes. It could be "Did you get that e-mail I sent?" to "How's the weather there?". You can now get an immediate status update or answer to a question that's on your mind. If there's nothing project specific to talk about, foster stronger personal relationships with people you may not normally have the opportunity to do so with.
This idea is extraordinarily innovative. It sounds simple- a random video call between two co-workers, but it's not. It's much more then that. It's an extension of enterprise social. We know that two-thirds of employees use social media in their personal activities, but only one third of them use social media within the corporation. At a time when businesses are exploiting social media for outbound marketing to connect with the "new generation" they're missing an opportunity to turn inward those capabilities and foster greater collaboration amongst employees.
An enterprise social environment offers employees a personal space and a set of community spaces. In the personal space employees have a profile that lists the communities they belong to and allows them to list areas of expertise and experience, as well as, areas of personal interest. Communities foster group activities and may consist of members of the same organization, project team, and those with similar interests. If you take this natural grouping of individuals participating in a community or those "tagged" with personal areas of interest with other like-minded individuals and add presence information for availability, you now have the ability to bring together two people with a common interest and the time to talk for a moment. In other words, you have the foundation for a virtual bump.
Do you need a virtual bump? I don't know. Only you can answer that question. The way employees engage with each other is changing. Companies are adopting social software that enable employees to be more collaborative with tools like wikis and blogs that include file and image sharing. However, companies must look at how to bring together their existing communication assets such as voice, real-time video and application sharing with social platforms to deliver an integrated collaboration experience. One that creates a community feel across a global enterprise where you can "bump" into somebody you're working with, even when their office is on a different continent. The benefits are huge- improved morale, greater collaboration, and stronger relationships. The water cooler has gone digital. And, don't you want to bump into Henry and ask what's up with the wig and glasses?
You must be a registered user to add a comment. If you've already registered, sign in. Otherwise, register and sign in.