Highlighted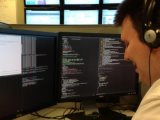 Beginner
Mark as New

Bookmark

Subscribe

Mute

Email to a Friend
Hello All,
I'm in a bit of a jam. I've got a carrier that only supports sending either rfc2833 or plain g711u inband. I've been told from the uccx TAC that the only dtmf methods supported on uccx are a subscribe/notify model like RFC6665 ('dtmf-relay sip-notify' in a cube or other cisco mg) or KPML Events (like RFC4730, 'dtmf-relay sip-kpml' in a cube/mg).
As far as I know, our SBC (an acme netnet 3820) can only translate rfc2833 events to SIP INFO events. I've got a support case open with them just to confirm, but my expectations are low.
It looks like my only option is to use an MTP on that carrier's trunk in cucm.. But that's not very appealing from a survivability standpoint.
Does anyone here have any experience running into this? Do you have any other workaround suggestions that don't involve me buying a cube or switching carriers ?