Beginner
Mark as New

Bookmark

Subscribe

Mute

Email to a Friend
UCCX Deselecting an Agent ?
Hi All,.
Does anyone know of a method for deselecting a resource in a script ?
Been asked check the feasibility of something,... lets say broadly speaking, we have agents based in two locations - all sit in the same CSQ,.
I have been asked if it's possible to check which location a selected agent is based, and then offering the caller the option to instead connect to an agent from their 'preferred' location,..
I have a select resource step - with connect set to 'No'
Using the 'Get User Info step',. I obtain the agents DN,. which I use to determine their location
Then, depending on location I have if and menu steps to either A: Route the call and B: offer the chance to pick an agent from the 'other' location or go ahead and connect the call if no preference.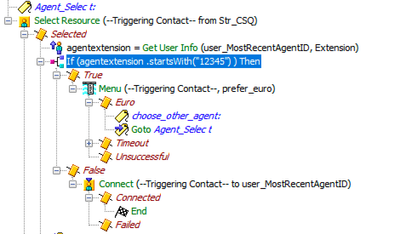 Rightly or wrongly I assumed that jumping back to the Select Resource would do the trick,...problem I have is that when jumping back, the initial selected agent stays 'reserved',.
Any ideas ? ,. or maybe it's not possible ?
Cheers
JT