Beginner
Mark as New

Bookmark

Subscribe

Mute

Email to a Friend
Dobrý den.
Zprovoznil jsem podnikovou síť s tímto routerem, zprovoznil QuickVPN.
Po "vytočení" QuickVPN lze router nastavovat jak z vitřní sítě(192.168.10.1), tak přes internet(z domu 247.112.x.x).
Pokud se z domu připojím přes QuickVPN do firmy pak :
jak zjistím IP adresu, kterou mi přidělil router ve vnitřní síti (192.168.10.1...)
mohu udělat ping na počítače v práci
nemohu otevřít žádnou sdílenou složku (cd \\192.168.10.x\SdilenaSlozka)
nemohu se pripojit přes RDP na zvoleny pocitac v praci 192.168.10.x
Co je potřeba nastavit abych mohl použít RDP a otevřít sdílené složky ostatních PC?

Děkuji
Rising star
Mark as New

Bookmark

Subscribe

Mute

Email to a Friend
Roman,
It sounds like a firewall on the computer is blocking file sharing and RDP. If you can ping the computer, then the QuickVPN tunnel is successful. There are no settings on the router that can change whether or not you have access to certain services via QuickVPN. Either you have full access to the LAN devices or no access with it.
- Marty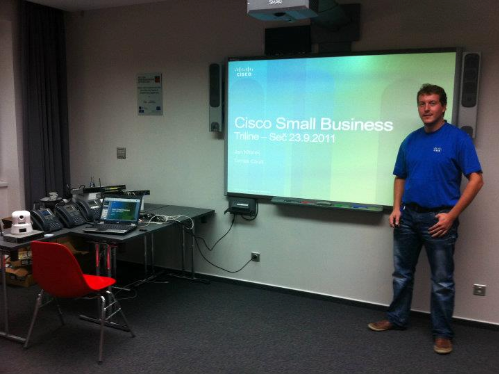 Beginner
Mark as New

Bookmark

Subscribe

Mute

Email to a Friend
Dobrý den,
dle popisu to vypadá, že není správně nastavena Výchozí brána na straně NAS nebo RDP
kontaktujte nas na technicke podpore
Cisco SB technická podpora je poskytována v českém jazyce v pracovní dny od 9-18h.
Tel.: +420 245 00 22 44
E-mail: support@cisco-partners.cz