Highlighted
Mark as New

Bookmark

Subscribe

Mute

Email to a Friend
Dobrý den,
potřebuji provozovat zařízení WRV200 v módu Router, ale při tomto nastavení dochází k tomu, že zařízení nepropouští dovnitř pakety jiné než ICMP (ping). Mám libovolný router s NATem (například internet<->192.168.1.0/24) jako internetovou bránu. Za ním je WRV200 v modu "Router" (vypnutý NAT, 192.168.1.0/24<->192.168.2.0/24). Na obou routerech jsou nastavena routovací pravidla. Když z druhé sítě za WRV200 (192.168.2.0/24) pingnu server v internetu, dostanu bez problémů odpověď. Jakmile se pokusím přistoupit na tento server přes http, ftp nebo jinak, pakety s odpovědí jsou prvním routerem ještě přesměrovány na WRV200, dále se ale nedostanou. Problému se věnuje tato diskuze, ale řešení tam uvedeno není: https://supportforums.cisco.com/message/3099108#3099108
jak tento problém vyřešit? Děkuji za radu.
Highlighted
Mark as New

Bookmark

Subscribe

Mute

Email to a Friend
Volal jsem na linku podpory Cisco Small Business a bylo mi sděleno, že tento EOL produkt již není možné patchovat, ale co je horší, ani pro něj dodat starší verzi firmware (nechápu důvod ...), která tímto problémem netrpěla. Může někdo z českého Cisco sehnat starší verzi firmware (<1.0.39) pro router WRV200? Děkuji moc.
Highlighted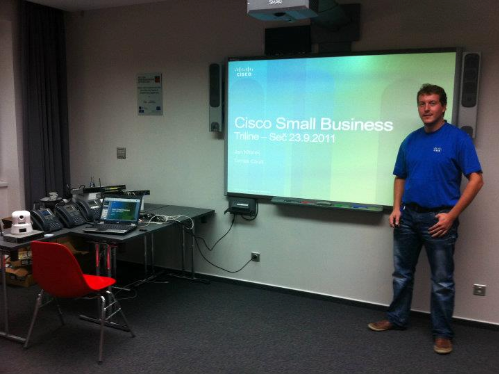 Beginner
Mark as New

Bookmark

Subscribe

Mute

Email to a Friend
Dobrý den,
ano tento problém je v zarizeni WRV200, toto zarizeni ackoliv ma rezim Routing, neni koncipovano do takoveho provozu, standartne zakaznici vyuzivaji NAT rezim.
Pro tyto ucely doporucuji zakoupit napriklad Cisco 861 nebo router RV120W ktery podporuje VLANy a je mozne routing subnetu resit pres VLANy.