Cisco Employee
Mark as New

Mark as Read

Bookmark

Subscribe

Email to a Friend
A kind weekly welcome to all those out in TEO land! I am back with another exciting installment of our weekly TEO blog. I do apologize for being a couple of days late but we all know the ebb and flow of business and how things get busy. This week we will be a bit more focused as we look at Targets and Target Groups and ways to use them effectively.
Shaun's Thoughts:
Of course, targets are at the center of any process/workflow infrastructure. We need them to be able to interact with the many components in the IT infrastructure. When we think of targets (single targets) we need to think of something to execute an activity on. Targets are the things that will be up or down, not adapters (a common misconception). TEO will allow you to monitor many different types of targets including Active Directories, Cisco UCS Manager, DB2, Email, OLEDB, Oracle, Remedy, SAP BI, SAP (abap and java), SCOM , SQL, Terminal (telnet/ssh), Tidal Server Provisioner, Unix/Linux, VMWare ESX, VMWare Virtual Center, and Windows. A handful of these targets will need additional components installed to allow them to work, such as the SAP ABAP target needs to have the SAP GUI installed on the TEO server to make use of SAP DLLs.
Ok, well that's great, right? Look at all the stuff we can plug in to, but the real question is, what's the benefit? How do we use the effectively?
So let's start with the benefit..... given the ability to plug in and interact with all of these components allows us to better manage our systems across the entire IT landscape. Got an issue with SAP? Well we can check SAP and then check the OS layer (be it Windows or Unix/Linux), then you could open a remedy ticket on that issue and track it and handle all of that interaction via TEO.
Starting to sound too much like a salesman? Yeah I know, it's hard not too sometimes. On a more technical level, the separation of the targets gives us a much more enterprise and robust environment. Using the Windows Event triggers or CCMS triggers I can monitor exact events as they happen in those targets.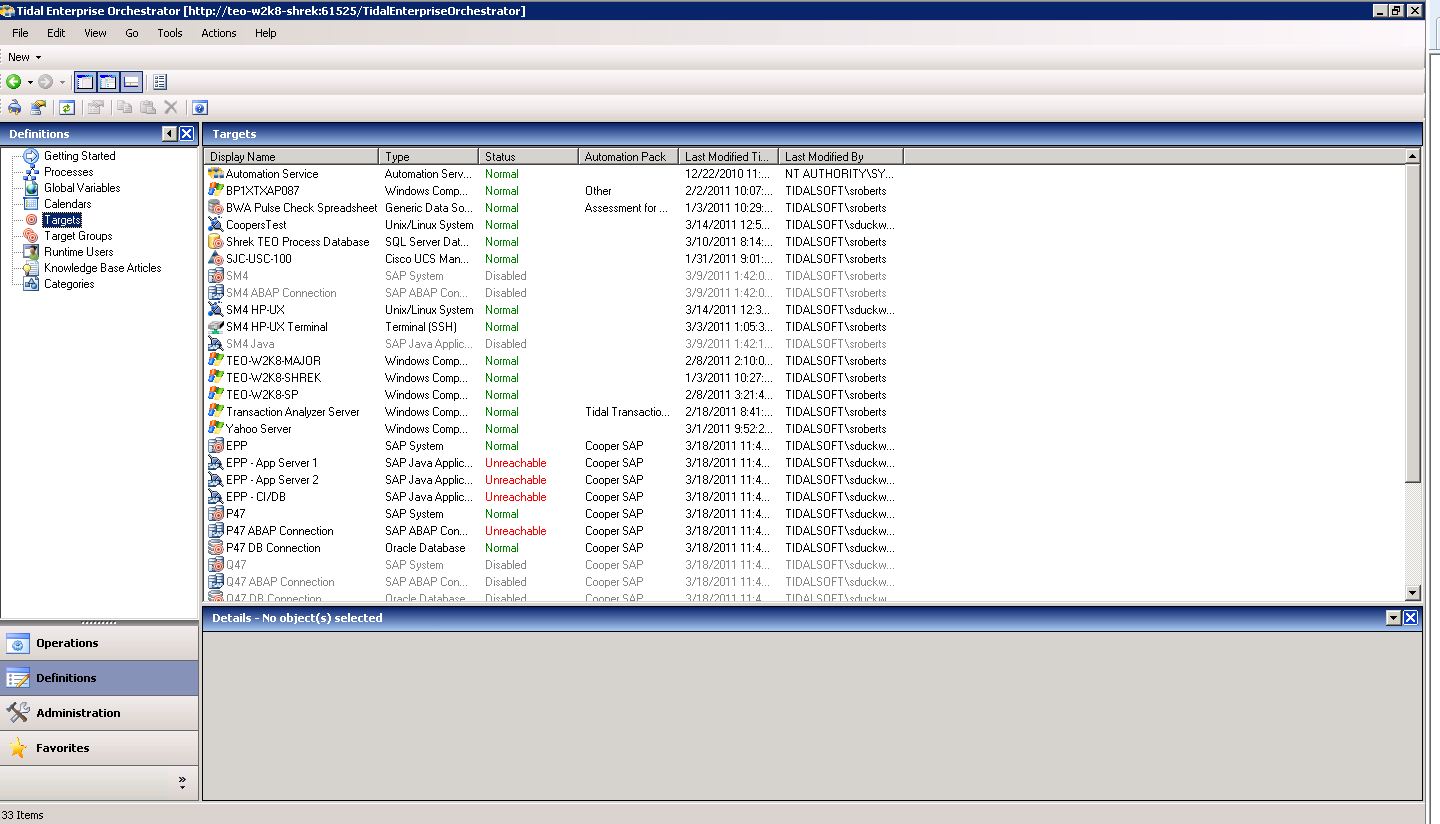 So how do you get the most out of your targets? Connect as much as you can and use them in processes and workflows to automate processes and activities you do on a daily basis. Use them to monitor applications across your IT infrastructure.
And we want to build on that, so we introduce the concept of Target Groups, no longer single targets, now full groups of targets that are separated into a couple of major kinds. Two around Active Directory, one around Target Types, and one called "Virtual". A major suggestion to the authoring community is to make use of Target groups as your primary targets on most all processes, try to use single target processes at a minimum. It is not best practice and will give you headaches when you attempt to export/import the automation packs with that content in them. Use target groups as much as possible, it will make your authoring much more smooth.
So what's the best way to manage them? Well in my opinion I like to manage all my targets in one stand-alone Automation pack or tap. It makes moving them around to other TEO application servers easy and then will make automation pack management easier. All your new content will be dependent on this "All in one target tap" but that's better than having targets scattered about multiple other automation packs.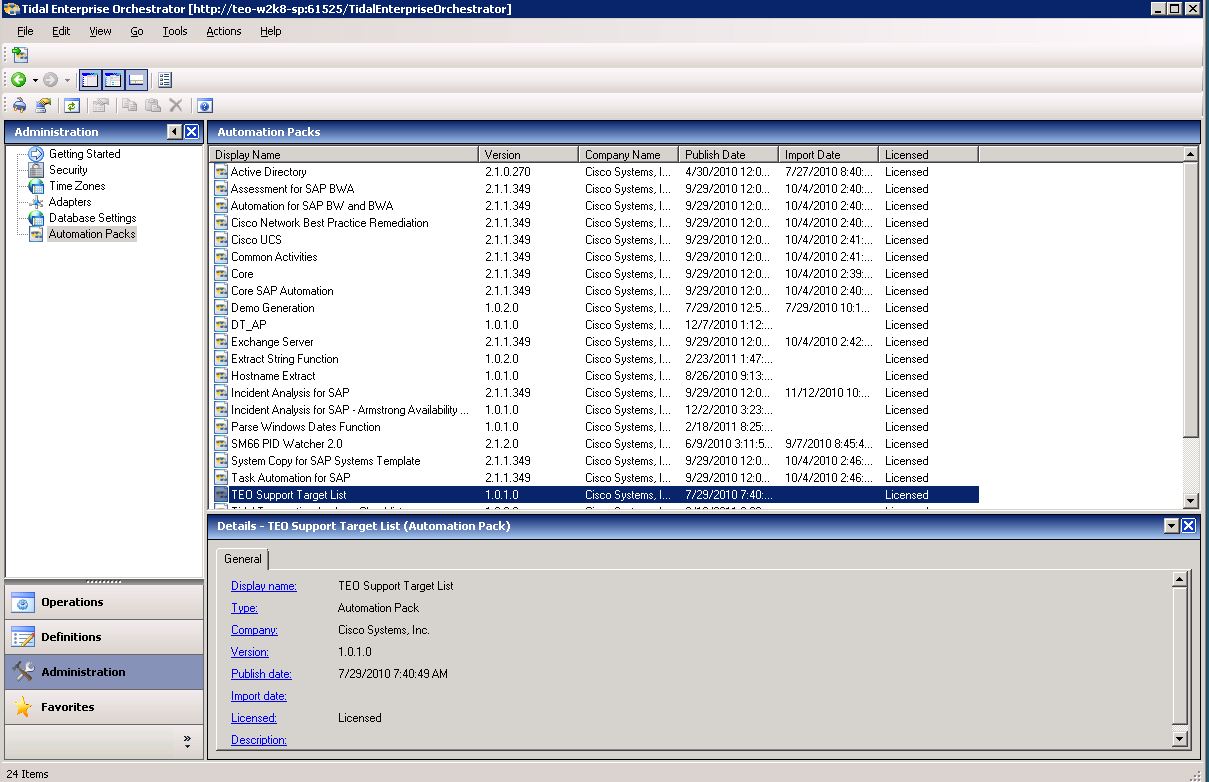 Hopefully this gives you a little better insight into Targets, not the most exciting topic, I know, but important to manage properly, none-the-less.
Shaun's Weekly Tip - Using Powershell CLI on Targets
One of the cool things you can do with TEO is enable/disable targets with the powershell CLI, giving you the ability to time maintenance windows of targets and automatically bring the target up or down in TEO. For an example see the Enable/Disable SAP Processes in TEO 2.1.1+ or contact support for help. Also reference the Powershell CLI guide found in your documentation.
Shaun's Weekly Q/A
No questions this week! Hopefully we'll get some in to answer for next week!
Ever week I will pick a handful of questions from you, the reading TEO public, to answer in this part of the blog. They can come from comments posted below or via an inbox I have setup at teo-blog-questions@external.cisco.com
The e-mail inbox will not be responded to and is not a place to send bug/issue questions, more of a place to send quick hitter type questions or thoughts about the week's blog post. The most insightful/best e-mail/comment will win "Comment of the Week" honors for the following week's blog post.
Please also let me know if you like the format of this blog and what else you would like to see/know about. Feel free to give any ideas as to future blog posts, etc and I will be happy to post them. I hope to do more how-tos, best practices, tips, tricks, and hopefully some interviews of the important people behind the scenes of TEO. My hope is to have a once/week blog entry here on TEO!
WEEKLY TEO BLOG DISCLAIMER: As always, this is a blog and my (Shaun Roberts) thoughts on TEO, my thoughts on best practices, and my experiences with the product and customers. The above views are in no way representative of Cisco or any of it's partners, etc. None of these views, etc are supported and this is not a place to find standard product support. If you need standard product support please do so via the current call in numbers (650-475-4600 or 877-55-TIDAL) or via e-mail at tidal-support@cisco.com (please include your Cisco ID when emailing in)
Thanks to all for reading and happy automating!
-Shaun Roberts
TEO Support Team Lead
You must be a registered user to add a comment. If you've already registered, sign in. Otherwise, register and sign in.