Cisco Employee
Mark as New

Mark as Read

Bookmark

Subscribe

Email to a Friend
A nice welcome to all those out there in the world of Automation. I am going back and forth on whether this will actually be a "weekly" blog or more of a just "when I get around to it" blog. Probably more of the latter, but we'll still call it the Weekly TEO. This week I was thinking about the different ways to interact with TEO and my thoughts on it..... (I think about TEO outside of work, I know, it's sad)
Shaun's Thoughts
So to start with, we need to list the ways your users will interact with TEO:
Remote Console via Terminal Session into TEO Application Server
Remote Console on their laptop
Web Console (via any support web browser on whatever machine)
E-mail - which leads normally to the web console, but not always
So as we look at each one individually, I'll lay out my thoughts on when they are good practice and how I think they would well and what not.
Remote Console via Terminal Session Into TEO Application Server
This will probably see a lot of our former Horizon customers using this method. This is when you have terminaled into your TEO application server and then start the Master UI or Remote Console on the TEO Application Server itself. Because Horizon did not contain a remote console and required this method I know a lot of Horizon and/or TA customers will be in this habit and just do this. So when is this still a good/viable way to work? I think it's ok when you have a very limited user base or a limited administration or process authoring group.
Overall, I think this is the least preferred method especially for large scale deployments, but is a good way to get your feet wet and understand what is going on. (Honestly, this is the method we use in support, but that's because we have a very limited user base). The biggest bonus you will see is network traffic will not impact the responsiveness of the console as much as if you were running the console on your laptop, so you'll see a little better performance, however it is not very "scalable" as it will be limited to the number of users you can have terminaled into your OS at any one time. Most of the time, with Windows, we see this as around 2, but depends on your settings, etc.
Remote Console via remote system
While this method users the same Master UI, it is different in that you have installed the TEO Client Console/Master UI on your laptop or other remote machine and you are remoting into your TEO server. This method and the above method are the method to use if you plan to do any administration work or content authoring. In the web console you cannot do either of these as of 2.1.2, so this may force your hand if you are looking to do either. This method does add in the con of network traffic/lag and may hurt some performance in the UI, but can be a much better method to handle a larger number of users than the first.
You probably want to use this method if you have a good sized authoring/administration group and cannot have everyone logging into the TEO application server. However these users still need that higher level of configuration capability so the web console would not be a valid interface use. As of 2.1.2 you do need to be in the same domain normally as the TEO application server, however 2.2 will address this.
Web Console
The web console provides access to anyone in your Active Directory. This method is highly preferred for large user bases who do not need any kind of major administration or content authoring access. From the web console the user can only interact with the system via user tasks or start and monitor processes ad-hoc. The web console only needs to be installed on one system running IIS and once that is done and configured properly, you will be able to send users to it and access the user interaction of your TEO system. You can send multiple TEO application servers into one web console(see below) as well.
Overall, this method will fall pray to network issues as well, but does provide the best solution for those larger user bases who just need general access to TEO.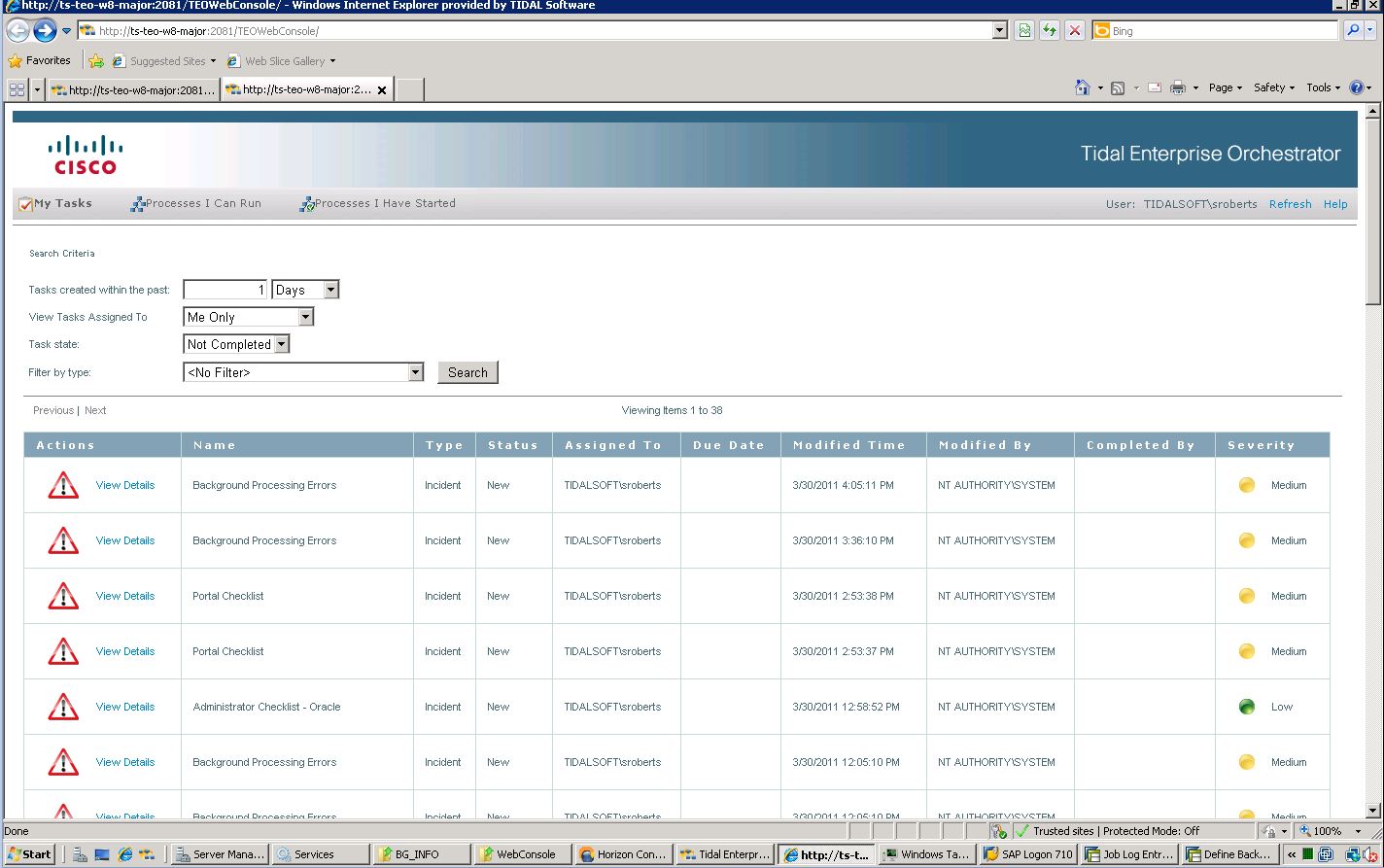 Email
While there is not a lot to say about E-mail it is still a very valid interaction medium with TEO. Using the e-mail activity you can send e-mail to whoever pending your E-mail Adapter is configured properly. This is a great way to get interaction out to a large user base in a hurry. It also is proactive in getting things out instead of waiting for someone to log into a console and wait.
The problem with this will be the required human interaction. Not everyone will respond to their e-mail in a timely fashion so that must be considered. E-mail will lead to the web console as most emails (in Cisco included content) will come about from Alerts/Incidents which will have automation summaries and user tasks attached to them. If you are looking to notify a large base or users with minimal impact to the system, this is a definite way to go. You can also use triggers and alert/incidents in a nice way to trigger automatic emails (just like is found in the Incident Analysis for SAP and Core SAP Automation automation packs)
Shaun's Weekly Tip - Feeding Multiple TEO Application Servers to one Web Console
Go to the server where the TEO Web Console is installed.

Go to the TEO Install Directory (C:Program Files (x86)CiscoTidal Enterprise Orchestrator).

Open the WebConsole directory.

Look for the Web.config file, open it, and edit it.

Look for the <appSettings> tag, and then the <add key> tag.

Inside of the <add key> tag, you will see key="WebServiceUris" and then value="<server http endpoint>".

Put all the Server HTTP Endpoints into the value variable, separate by commas:

value="

http://TEO1:61525/TidalEnterpriseOrchestrator

,

http://TEO2:61525/TidalEnterpriseOrchestrator

,

http://TEO3:61525/TidalEnterpriseOrchestrator

"



 

Save the file and restart IIS if needed.
Shaun's Weekly Q/A
No questions this week! Hopefully we'll get some in to answer for next week!
Ever week I will pick a handful of questions from you, the reading TEO public, to answer in this part of the blog. They can come from comments posted below or via an inbox I have setup at teo-blog-questions@external.cisco.com
The e-mail inbox will not be responded to and is not a place to send bug/issue questions, more of a place to send quick hitter type questions or thoughts about the week's blog post. The most insightful/best e-mail/comment will win "Comment of the Week" honors for the following week's blog post.
Please also let me know if you like the format of this blog and what else you would like to see/know about. Feel free to give any ideas as to future blog posts, etc and I will be happy to post them. I hope to do more how-tos, best practices, tips, tricks, and hopefully some interviews of the important people behind the scenes of TEO. My hope is to have a once/week blog entry here on TEO!
WEEKLY TEO BLOG DISCLAIMER: As always, this is a blog and my (Shaun Roberts) thoughts on TEO, my thoughts on best practices, and my experiences with the product and customers. The above views are in no way representative of Cisco or any of it's partners, etc. None of these views, etc are supported and this is not a place to find standard product support. If you need standard product support please do so via the current call in numbers (650-475-4600 or 877-55-TIDAL) or via e-mail at tidal-support@cisco.com (please include your Cisco ID when emailing in)
Thanks to all for reading and happy automating!
-Shaun Roberts
TEO Support Team Lead
1 Comment
You must be a registered user to add a comment. If you've already registered, sign in. Otherwise, register and sign in.