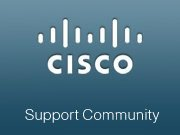 Community Manager
Mark as New

Mark as Read

Bookmark

Subscribe

Email to a Friend
-----------------------------------------------------
http://blogs.cisco.com/datacenter/what-does-a-company-look-like-with-cisco%E2%80%99s-data-center-business-advantage-architecture/
[Part I of our blog series on Cisco Data Center Business Advantage.]
The IT department plays an interesting role for most companies. They deliver the digital face of the company via the corporate website. They process orders, collect revenues and manage corporate assets via the ERP, CRM, SCM and other 3-letter acronym systems. They enable collaboration within the company via Phone Systems, IM, Video Conferencing and Wikis. And they enable users to watch clips on YouTube on the iPad brought in from home because HR told them they needed to create a more Gen-Y friendly environment to aid in recruiting.
As we read the lists of the most admired companies, it's easy to see that almost all of them use technology at the core of their business to drive innovation or differentiation themselves from their competition. These businesses realize, in the 21st century, technology is no longer a supporting function. Technology is a strategic competency that can drive change faster than any element of the business.
But when we put these two things together, why are so many people frustrated with their IT department? And why is the IT department so frustrated with their own ability to deliver the capabilities that create headlines and move companies to the top of admired lists?
The reality is that when executive management asks IT to deliver Innovation to help move their company forward, the IT department is often coming to the game with 70% of their arms tied behind their back! That's right, most IT departments spend 70% of their time and budget just keeping the existing systems running.
Now let's assume that the IT department didn't have as much burden keeping the lights on and could shift some of that time and budget to address new projects. Let's suppose they had systems that were more cost efficient, were easier to manage and could grow faster. Let's suppose they could move to a model that was closer to 50/50, freeing them up to be more responsive to the innovation needs of the business, what could that mean? What if you could move to a 40/60 model like Cisco IT did in approximately 24 months?
The salesforce could get that set of mobility tools to quote orders faster.

The marketing department could roll out the additional demand generation capabilities on the website.

The business development group could do deeper data analysis to best determine where to launch the new consumer product.

The company could roll out that social media program to create better conversations with their customers, increasing customer loyalty.

The Cisco Data Center Business Advantage architecture enables a more flexible environment, allowing IT to be more responsive to business needs and able to drive new capabilities for the business. It enables more conversations where business and technology leaders can come together and drive a strategy that ends in "Yes!"
So how does a business prepare themselves to leverage the flexibility that is enabled with Cisco Data Center Business Advantage?
Embrace the voice of your customers, partners and suppliers. They are technically savvy and want to tell you how to make your business better. Listening to their feedback will drive greater focus into your business.

Embrace the voice of your internal users. More and more of your workforce will not only be comfortable with technology, but demand a better experience from the place where they spent so much of their day.

Go back to your IT department and demand that they think about the way they deliver services to internal and external customers differently. Cisco Data Center Business Advantage gives them the technology framework to look at business boundaries differently (pubic vs. private services); it gives them the ability to scale services in ways they never could in the past; it gives them the ability to drive greater responsiveness to customer needs.

Embrace the voice of your IT department. These groups live and breathe technology every day. They want to show business leaders how to strategically use technology to drive the business. Make them a valued partner in the business planning process, not just a support service at the end of the planning cycle.

Don't be afraid to ask new questions. The pace of technology change within the Data Center and outside in Public Cloud services has never been faster. What wasn't possible or cost-effective just five years ago (eg. data analytics, video, social media, mobile applications, etc.) is enabling new business models for companies that are willing to go back and question if previous bottlenecks are still a problem.

Now that you've seen a glimpse of how your business can be transformed, let's take a look at how to create the foundation for this new business architecture.
You must be a registered user to add a comment. If you've already registered, sign in. Otherwise, register and sign in.