edited on:

‎03-01-2019

‎06:00 AM
Introduction

This documents provides steps to configure IP address for CIMC access to UCS C series servers.
KVM Features

Overview of KVM features:
1. Cisco C-Series Rack Servers provides a physical local video and two usb connections for a usb keyboard, video monitor, and usb mouse connection through the front panel of the Rack Server using the Cisco provided dongle connector.
2. All Rack Servers can have up to 4 active KVM over IP sessions in addition to the local connection at front or rear panels. All active sessions have full control of the console
3. KVM over IP supports text and graphics modes of the graphics controller and needs no manual setting to view data
4. Graphics modes supported are up to the video chips maximum capabilities of 1600 x 1200 with 16 bit color.
Configure CIMC IP address

Step 1: Boot the server. You will get the following screen.
Note: if you miss the initial CIMC setup follow the unit's power-up procedure Press (Y) to continue, next Press 9 then Enter to update all.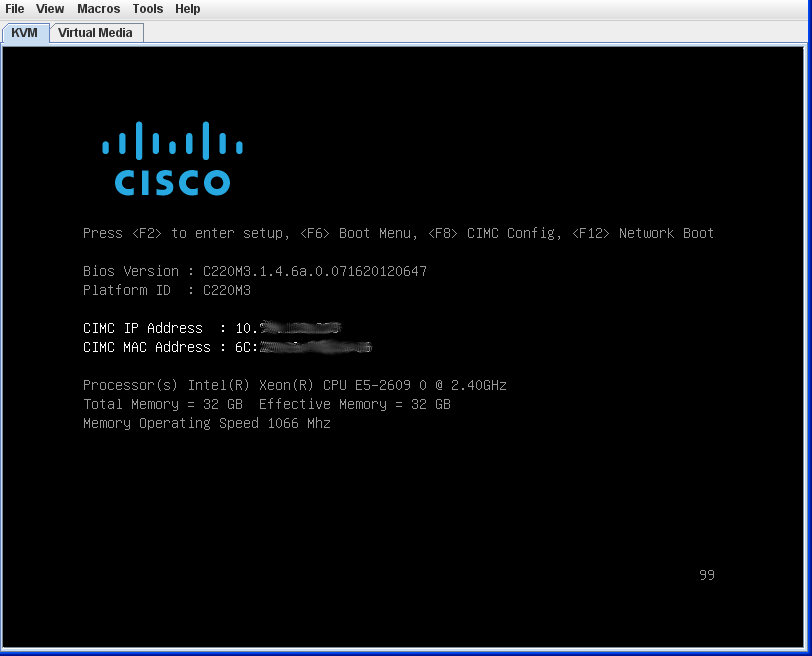 Step 2: Quickly Press the "F8" key to enter the "CIMC Config" setup before the UCS server goes into auto reboot.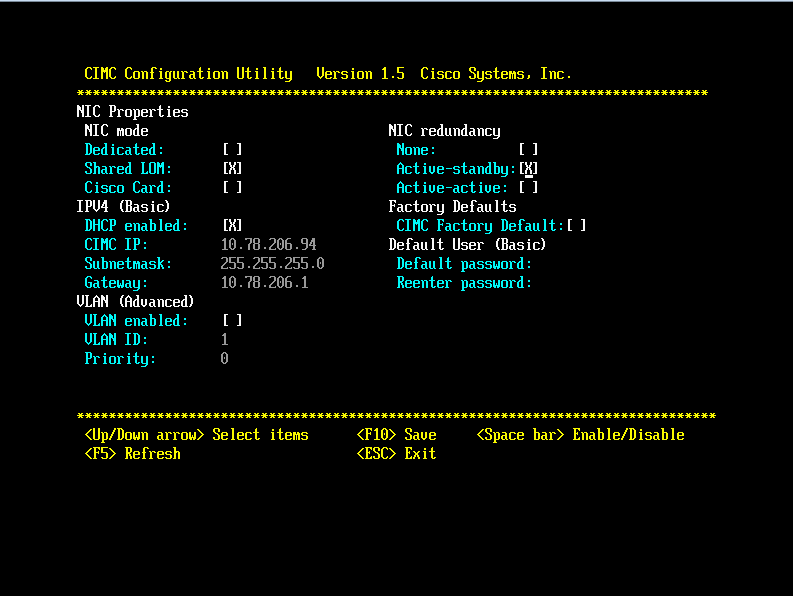 Step 3: For the "NIC mode", enable "Dedicated" and for "NIC redundancy" enable "None". This ensures that the dedicated Management Port will be used for CIMC instead of the Intel NIC at port 1.
Step 4: To use fixed/static IP Address, disable the "DHCP enabled" option. Specify the required values for three options below :
1. CIMC IP
2. Subnet mask
3. Gateway
Step 5: To use DHCP, enable the "DHCP enabled" option
Step 6: Press the "F10" key to save the changed settings done so far.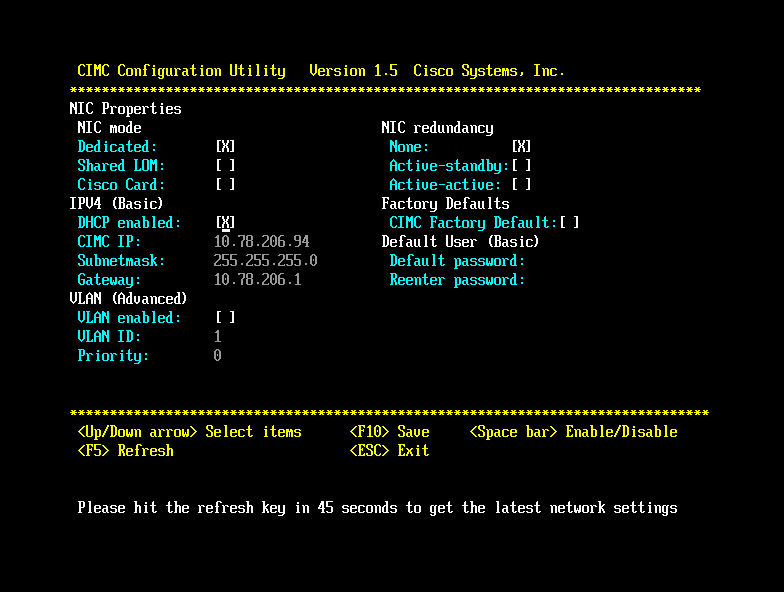 Step 7: After 45 seconds, press the "F5" key to refresh the display.
Step 8: Press the "ESC" key to exit the CIMC Configuration Utility.
Logging In to CIMC
Follow these steps to login to the CIMC.
Step 1 In your web browser, type or select the web link for CIMC.
Step 2 If a security dialog box displays, do the following:
Click Yes to accept the certificate and continue.
Step 3 In the log in window, enter your username and password.
Step 4 Click Log In.
Related Information