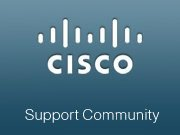 Community Manager
Mark as New

Mark as Read

Bookmark

Subscribe

Email to a Friend
thru
Welcome to the Cisco Support Community Ask the Expert conversation. This is an opportunity to learn and ask questions about Overlay Transport Virtualization (OTV)

Overlay Transport Virtualization (OTV) on the N7K is an industry-first technology that significantly simplifies extending Layer 2 applications across distributed data centers. You can now deploy Data Center Interconnect (DCI) between sites without changing or reconfiguring your existing network design.
OTV is an IP-based functionality that has been designed from the ground up to provide Layer 2 extension capabilities over any transport infrastructure: Layer 2 based, Layer 3 based, IP switched, label switched, and so on. The only requirement from the transport infrastructure is providing IP connectivity between remote data center sites. In addition, OTV provides an overlay that enables Layer 2 connectivity between separate Layer 2 domains while keeping these domains independent and preserving the fault-isolation, resiliency, and load-balancing benefits of an IP-based interconnection.
Sandip Rathod is a Network Consulting Engineer in the Cisco AS Team based in Bangalore, India. He has worked and designed various project of many large customers like KPN, BT, Infosys, ITENOS, Vodacom etc. His areas of expertise include data center, routing, switching, MPLS. He has extensively worked on many Data Center end to end projects. He has been in the networking industry for 10 years, which includes five years in the service provider industry and five years in Cisco AS, and is a dual CCIE, in the routing and switching and service provider tracks.
Hemant Bharati is a Network Consulting Engineer in the Cisco AS Design Services Team based in Bangalore, India. His areas of expertise include Enterprise Networking , IPv6 and Data center. He has been in the networking industry for 10 years. He holds a CCIE certification in Routing and switching
Remember to use the rating system to let Sandip and Hemant know if he has given you an adequate response.
Because of the volume expected during this event, Sandip and Hemant might not be able to answer every question. Remember that you can continue the conversation in the Other Data Subjects under the sub-community Data Center & Virtualization, shortly after the event. This event lasts through August 29, 2014. Visit this forum often to view responses to your questions and the questions of other Cisco Support Community members.

You must be a registered user to add a comment. If you've already registered, sign in. Otherwise, register and sign in.