edited on:

‎11-24-2017

‎06:20 AM
Previous Article
Once you have created a lengthy contact group for e.g. to collaborate with the Cisco services delivery team and/or your peers, it would be great to be able to share this contact group with your peers working on the same Cisco Services engagement. This is where Pinning a Contact Group to a workview comes handy.
The 'pinning' concept requires a (shared) workview and a contact group:
When you pin a contact group to a shared workview, all team members of the shared workview will be able to leverage the same contact group without having to recreate it. The contact group will appear in their contact groups list and in the user selection component throughout DCP (e.g. when you want to start a discussion or submit a document for approval) the workview members will also there be able to leverage the contact group that you created and pinned to the workview.
In essence, by pinning a contact group to a workview, you create and share a contact group with all the workview members for their benefit.
Additionally, pinned contact groups will also show up on top of the list in context. This means that if you selected a workview with the Left Pane Filter and that workview has a pinned contact group, that contact group will list on top of all other contact groups when e.g. you select contact groups when starting a discussion or submitting a document for approval.
It further simplifies the selection of users.
It is also possible to pin a contact group to a private workview. Obviously no sharing here but the latter benefit of listing the contact group on top in context of the workview remains.
---
Pinning Contact Groups
To pin a contact group to a workview, select one of your own created contact groups in the left column of the Contact Management pane. Pause your cursor over the contact group name and you will see a 'pin' appear.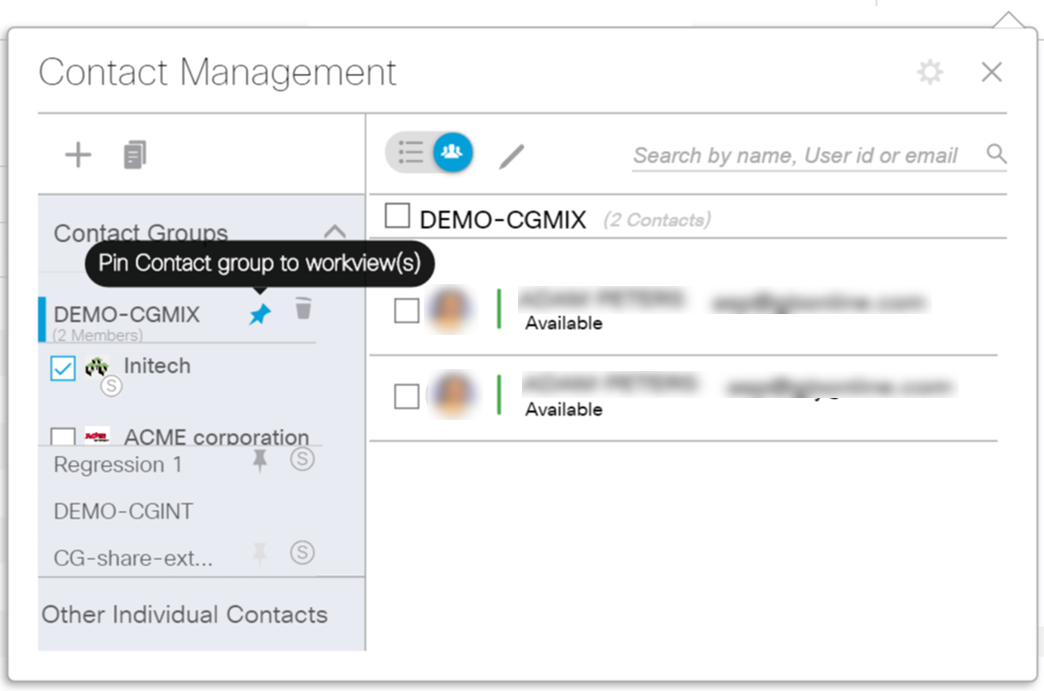 Click on the pin and the contact group name will expand to list all of your workviews. Check the workview(s) to which you want to pin the contact group. Click anywhere else to trigger the auto-save. Once pinned to a shared workview, all workview members will see the contact group appear in their list of contact groups.
Notes :
Only the creator of the contact group can edit it, both the name as well as the user list that defines it. It is locked to anyone else. The workview members with whom the contact group is shared can not edit the contact group and can not delete it from their list.
When pinning to a workview, you can select from any of your workviews, both your private workviews as well as shared workviews. Also as a regular member of a shared workview you can pin your contact group(s) with that workview (you don't need to be the SPOC or Admin of that workview)
There is no limit in to how many workviews a contact group can be pinned. You can pin the same contact group to more than 1 workview. Also it is possible that more than 1 contact group gets pinned to the same workview.
Un-Pinning Contact Groups
To unpin a contact-group from a workview, simply click on the Pin icon and uncheck the pinned workview from the list of values, as depicted below. Again, only the creator of the contact group can unpin the contact group from a shared workview.
---
Related articles :
Table of Content

Previous Article