Cisco Employee
Mark as New

Mark as Read

Bookmark

Subscribe

Email to a Friend
What's the Big Buzz about Bees?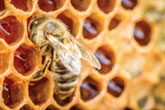 Bees are the world's most prolific pollinators of food crops. With one third of the food that we consume each day relying on pollination, these little creatures contribute billions of dollars every year to the global economy.
Unfortunately, honey bee populations in some parts of the world today are at risk from a number of interacting factors such as agriculture intensification, Varroa mite, bee pathogens, changes in bee food supplements and pesticides.
Nearly one third of all honeybee colonies in the U.S. have vanished, according to the Natural Defense Resource Council. The global honeybee population is declining so quickly for a number of reasons, including a phenomenon called colony collapse disorder. This is when the majority of worker bees in a colony die or abandon the hive, and only the queen, honey and immature bees remain. Scientists are not sure why this is happening.
The Global Initiative for Honey bee Health (GIHH) is an international alliance of researchers led by the CSIRO. GIHH seeks to address threats to honey bee health through a world-wide data collection exercise using micro-sensing technology to reveal information in unprecedented detail that helps researchers to analyse the effects of stress factors including disease, pesticides, air pollution, water contamination, diet and extreme weather on the
movements of bees and their ability to pollinate.
Researchers are equipping bees with tiny high-tech backpacks. The backpacks are actually micro-sensors using
radio-frequency identification technology
, which enables electronic readers to record the behavior of individual bees.
How do Bees, Developers, and the #DevNet Zone fit together?
We are working in conjunction with CSIRO's Data61, the largest data innovation group in Australia, and relayr, a leader in cloud-connected sensors and actuators, to look for ways to use IoT technology to gather data from hives and make data available for applications and scientific analysis.
Data61 and relayr are participating in the DevNet Hackathon, taking place the weekend before Cisco Live. They will be making their data available to participating developers to hack with.
If you can't make it to the Hackathon or if you want to learn more, be sure to register for the following session where scientists from Data61 will host a technical session to discuss the issues facing bees, and how we are using video analytics, IoT sensors and services to make this data accessible to developers.
Using IoT Sensors and Video Analytics to Investigate Bee Hive Colony Collapse Disorder
Register: DEVNET-1043
Wednesday, July 13 at 4pm in the #DevNet Zone

Come See the Buzz for Yourself in the #DevNet Zone!
Buzz into the #DevNet Zone throughout the week to see a full onsite demo showing how data is being collected from hives around the globe. It's amazing what IoT sensors and services along with video analytics can do!
You must be a registered user to add a comment. If you've already registered, sign in. Otherwise, register and sign in.