Options
Mark as New

Mark as Read

Bookmark

Subscribe
Look around... go ahead, look around... You'll likely find yourself surrounded by Bots. I'm not sure if we've reached "Peak Bot" yet, but they are certainly on the rise.
Chat Bot's aren't new... I remember "back in the day" having annoying Bots crash AIM and ICQ discussions I was having. Most of the time when that would happen it was annoying and someone was trying to be malicious... Today, Chat Bots are being developed as useful personal assistants, next generation customer services, and of course for entertaining and humorous activities (I'm looking at you Chuck Norris Bot :-)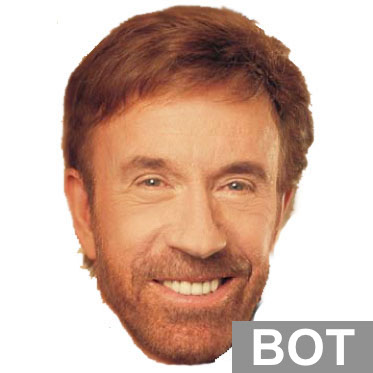 Cisco Spark is the enterprise collaboration platform of the future, and of course, it has Bots. Built from the ground up to be a platform for developers to find new ways to integrate rich collaboration into applications, its no surprise that one of the first uses of the APIs it offered was to create bots. "ChatOps" is joining "DevOps" as new methods of operating and working with technical platforms. By letting engineers interact with infrastructure systems, building management systems, security systems, or just about anything through the same messaging platform they use all day long, efficiency productivity is on the rise.
But you aren't a developer, how do you get started building your own bots? Well, you my friend are in luck! In DevNet Zone at Cisco Live Berlin 2017 I'm launching a new hands on lab designed to help anyone get started with Spark Bots. In fact, we'll look at how you can have a new Bot up and running in only 5 minutes! (or maybe 10... :-) By using a SparkBot Boilerplate project I've built, all of the intricacies of the building the bot structure, integrating with Spark, and how to bring the bot "alive" in the cloud are taken care of for you, and you can focus on adding new features and capabilities to your new bot.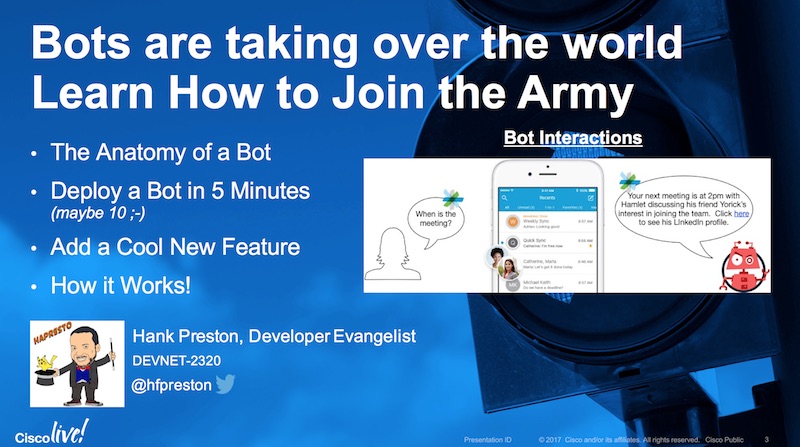 So if you'll be at CLEUR, be sure to come checkout "DEVNET-2320: Bots are taking over the world - Learn How to Join the Army". You can find details on the session and register here -> http://cs.co/90058zpyd. Not coming to Berlin, but still want to learn? Never fear, the session should be available at future Cisco Lives as well. Don't want to wait for Cisco Live? I don't blame you at all. I will bring the hands on workshop to DevNet Learning Labs in the very near future as well.
Long Live the Bot!
See you in Berlin! And even if you can't make the workshop, be sure to find me. I'll be around DevNet Zone all week!
Hank Preston
You must be a registered user to add a comment. If you've already registered, sign in. Otherwise, register and sign in.