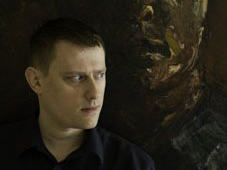 Contributor
Mark as New

Mark as Read

Bookmark

Subscribe

Email to a Friend
While the term "Internet of Things" was nowhere to be found at this year's Google I/O, the concept itself was in use everywhere. Every major technology area presented to developers had a connection to the Google virtual and physical information ecosystems. The smart or "conscious" home, wearables, automotive integration, physical interaction, telepresence, and device/cloud platforms all had tangible examples of what Google is doing and where they are going with connected services and endpoints. Even in the very execution of the conference, Google embraced connective technologies. Around the show floor there was a plethora of QR codes, NFC tags, and dynamic digital signage that facilitated NFC tag hunts for prizes and direct connections to surveys, information, and other content. Identification through the NFC chip in the badge was not unique at this conference but its seamless integration for attendees was unobtrusive and useful – especially combined with the fantastic Google I/O mobile application. Using these technologies was well thought out and helped to connect together the whole event. Even Google Cardboard energized the attendees with its simple approach to virtual reality on the cheap. These were innovative uses of technology that developers could connect with. They may not have been perfect or complete, but they were real and tangible.
At the heart of the real "Internet of Things" at Google I/O was the news released regarding Nest, its Dropcam acquisition, the related Nest developer program, and interoperability announcements with Mercedes and the popular If-This-Then-That (IFTTT) mobile application. It is one thing to announce Nest as a central hub of functionality in the home and another to actually invest in developers as a way to encourage innovation and growth. For this conference, Google has done both. While Nest seems to operate as an autonomous entity within Google, this is a clear move for Google overall to reach deeply into the "conscious home". That is, a home that is tied into your digital life and enables intelligent automation and interaction with your digital content, schedule, and communications. For example, as a tie-in to IFTTT, Philips Hue with its controllable LED lighting was also in attendance showing how to control and automate your daily lighting needs intelligently. Furthermore, the announcement that casting from an Android device is now an intrinsic function and that Chromecast now allows you to use your own photos as the backgrounds on your televisions may seem trivial but it aligns with the use of Google technology as the digital altar in the home. The price points of $250 USD for a Nest Thermostat and $35 USD for a Chromecast are certainly within the range for wide-adoption and truly present an interesting prototype for low-cost home automation and interactivity. These are very common use cases within our homes and Google has made them very real and affordable.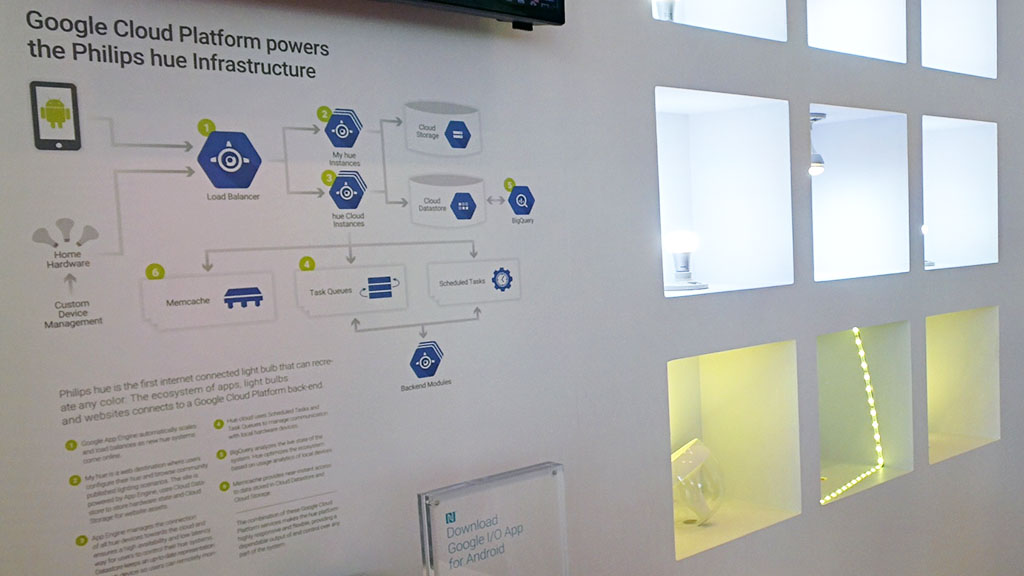 Beyond Nest, the personal area network was well represented at Google I/O. The introduction of the Android Wear platform, the new LG / Samsung devices, and Google Fit took center stage. Arguably the largest (and most predicted) introduction to developers at the conference was that of the Android Wear platform. Developers were given their choice of an LG G or Samsung Gear Live smart watch running Android Wear. Both were similar on specifications and are great vehicles for the promise of private and personal interaction with your digital life. Even though the devices are physical, it is where the Google's services in the cloud really break through. A wearable device cannot, on its own, access your schedule, take notes, predict your commute, tell you of upcoming flights, or log your health goals without the touching the cloud. All of the smarts in a smart watch come from the connection to the cloud. Without that connection, the same requirements of physically synching your device via USB or Bluetooth to a fixed workstation would remain and the use cases would become a lot less interesting. Therefore, it is not surprising that permeating the conference was a push to get developers to try and embrace Google's robust cloud services. They were very visible on the floor and in the CodeLabs and Google was even giving away $500 worth of cloud services to each attendee just to help with adoption. There were a number of sessions not only touting the capabilities of the cloud but how to integrate them with Android and improve them for more useful consumer, health, and education uses. Although Google Glass didn't get near as much of the spotlight as compared to Android Wear, it was certainly in attendance and the announcement of Ivy Ross as the new head means that this is real and is moving forward. It may even point to a broader consumer focus based on her history with Mattel, Old Navy, and Disney. Hiring a person known for their marketing expertise to navigate the product to the next phase seems wise. Beyond any drive in marketing, I would also expect to see new (possibly smaller) hardware and more capabilities around the audio/visual capture of your everyday life from Google Glass in the next 6-12 months. Otherwise, some of the functionality exposed in Android Wear will likely sap the relevance and utility of the Google Glass as a day-to-day consumer device.
Further extending upon the Android platform is a push into the automotive market with Android Auto. While there was an impressive list of many large automakers, there were a few notable exceptions, such as BMW, Mercedes, and Toyota. Beyond just having an impressive partner list, there was a clear goal from Google of improving safety by not having drivers struggle with their in-car technology. However, the buzz on the floor around Android Auto was that this is really what most consumers have wanted all along: bring the great Google Maps functionality crossed with their own content, music, and preferences to the automotive experience. All using a platform they already use and trust: Android.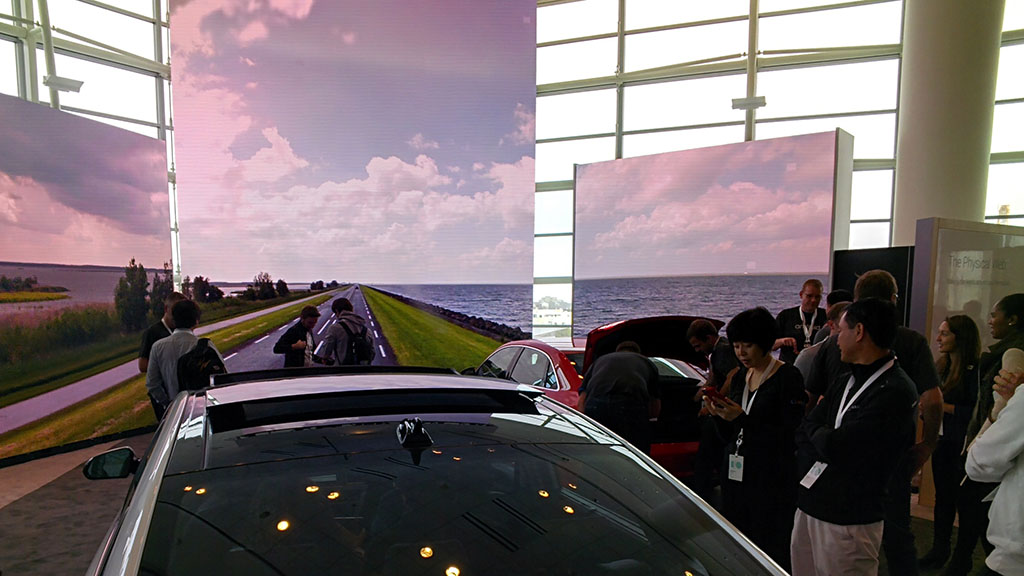 Finally, the lack of marketing buzz around the "Internet of Things" likely reflects Google's holistic approach to using the network to bridge the physical and virtual worlds and provide services that inform and enable the end-user. This is apparent with their new Android Wear and Android Auto lines but is also reflected in their emerging telepresence area with new video streaming devices, remote controlled robots, and robotic chess players. These examples show an innovative thrust to have remote conversations, share and collaborate on remote data, and have unique physical interactions across the network. From the floor, attendees could remotely control remote robots in the Google offices that were essentially mobile-phones on wheels. Maybe not the most practical application for a lot of workers, but a real implementation that could work for education student-to-teacher and student-to-student. Being a primary communications facilitator is something that Google is pushing hard to achieve. Part of their message may be that Hangouts are not just for end-users or small businesses, but for the classroom as well.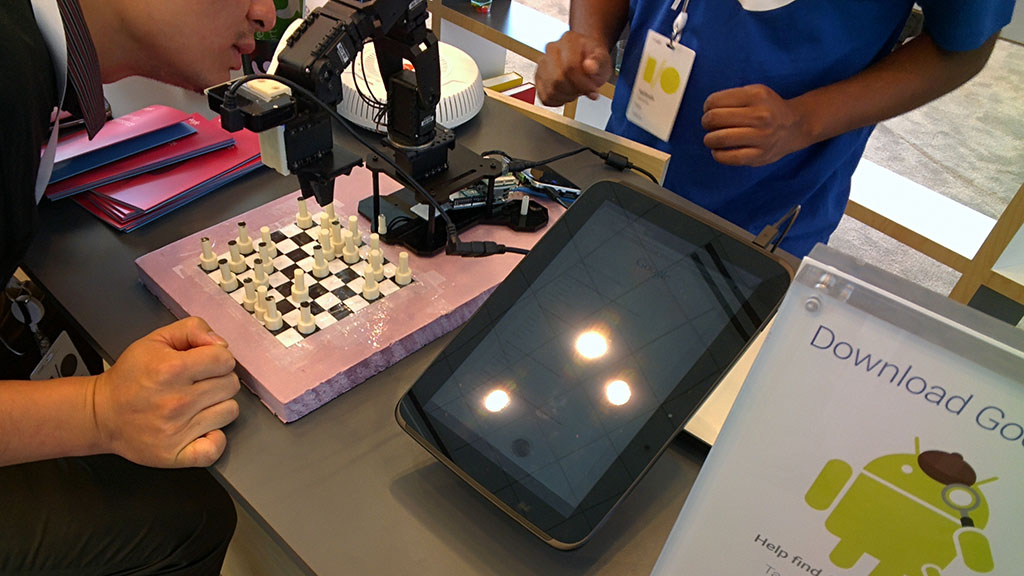 As a company, there are few so well positioned to engage the consumer, scholastic, or residential expanses of the Internet of Everything than Google. They have the physical equipment, virtual services, and innovative engineering horsepower to make it a reality. This Google I/O was about spreading Google into other connected areas while consolidating around the successful Android brand. Google TV was officially rebranded Android TV and clearly Android Auto and Android Wear are a means to this end. However, Android One, Google's push into low-end reference devices for emerging countries was even more important. This marks a shift for Google that involves tighter control over the platform from both a hardware and software perspective and also opens them up to the next billion connected devices. More devices is what the Internet of Everything needs and Google is making that happen. In talking to the Google and Nest engineers, the concept of the Internet of Things was not useful because they felt it did not connect with the consumer in a meaningful way. For them, the actual implementation, interoperability, and personal use cases of their technologies were far more important. That shouldn't be too surprising as this was a developer conference. The emphasis on the real implementation and actual equipment over hype was expected. During the keynote, when Sundar Pichai announced that the developers present would receive a new square Android Wear device at the conference there were cheers. When he then announced that they would receive a round Android Wear device later in the summer, there were groans. That is the mindset of the developer – don't tell me about it, give it to me and let me build on it. That is the reality.


You must be a registered user to add a comment. If you've already registered, sign in. Otherwise, register and sign in.