This Week In Tech: September 14, 2023
Options
Mark as New

Bookmark

Subscribe

Mute
‎09-14-2023 04:53 PM - last edited on ‎09-15-2023 07:01 AM by
Ken W. Alger
On September 12, 2023, Unity announced a change to its business model and introduced a Runtime fee: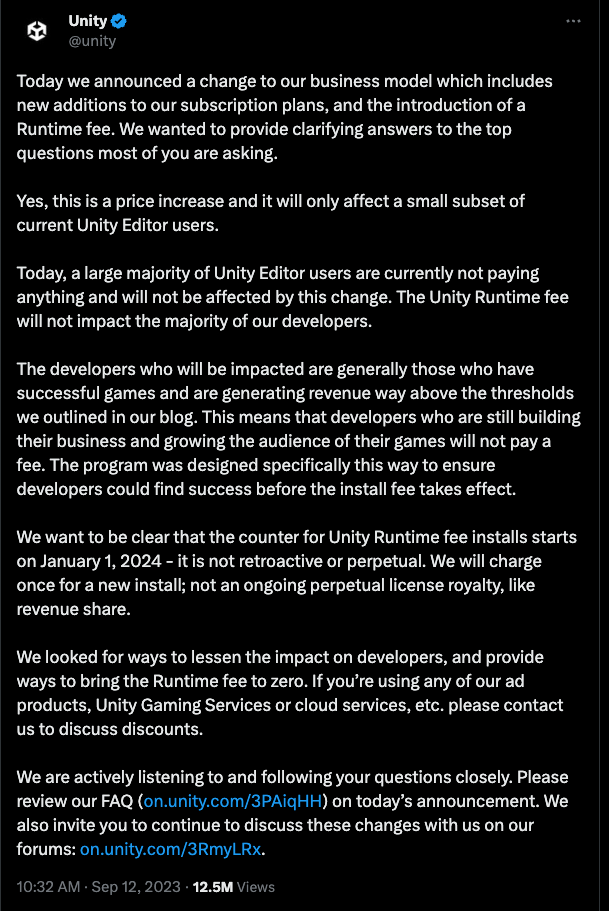 See the original tweet here
This change charges developers (on either Unity Personal, Unity Plus, Unity Pro, or Unity Enterprise subscription plans) each time a game using Unity software is installed by an end user. Per download, a flat fee of $0.15 per install will be charged for Unity Personal and Unity Plus subscription users while $0.30 per install will be charged for Unity Pro and Unity Enterprise subscription users. The Unity Runtime Fee will go into effect on January 1, 2024.
Unity has clarified that this Unity Runtime Fee will only apply to games that meet certain criteria, including:
The game has made $200,000 or more in the last 12 months.
The game has at least 200,000 lifetime installs.
Games that do not meet these criteria will not be subject to the Unity Runtime Fee.
Unity says that introducing the Unity Runtime Fee is necessary to help the company continue to invest in its products and services. The company also says that the fee will be fair to developers, as it will only be applied to successful games.
However, this announcement has been met with some criticism from game developers. Some developers argue that the fee is unfair and will disproportionately affect small and independent developers.
Unity has responded to this criticism by saying that the Unity Runtime Fee is a fair and necessary way to support the company's long-term growth. The company has also said that it is committed to helping developers succeed and that the fee will not prevent developers from making money from their games.
What do you think? Where do you stand? Let us know in the comments