Options
Mark as New

Mark as Read

Bookmark

Subscribe
We're letting our users know that we've just finished upgrading the Kubernetes with Contiv Sandbox to the latest versions of each for you!
The Sandbox is now powered up with Kubernetes 1.6.7 and Contiv 1.1.1.
Hit the Sandbox Catalog and reserve yourself your very own Kubernetes Cluster with Contiv plugged in and ready to go - FREE.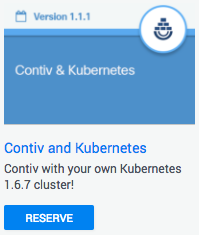 Follow these links to find out more about Kubernetes & Contiv and also hit the original blog I posted on this Sandbox to gather up some more information and get you started.

Visit: DevNet Sandbox for all our available Sandboxes or jump direct to the Kubernetes & Contiv Sandbox! to explore and reserve now!
TBM.