Beginner
Mark as New

Bookmark

Subscribe

Mute

Email to a Friend
Dear Cisco Support Community
I am new here and I have not made any arrangements for items from Cisco as am still learning about the service though I have created an account quite a while now.
I have had an email sent to me in my Spam box in my yahoo account, I can't remember making a connection with Cisco via my Yahoo address but I know I have from my hotmail. If I did make this connection it may have been in my naivety to the internet at some earlier time.
I received this email from IronPort Spam Quarantine Notification from JHSPH junkmail@jhsph.eud telling me about some blocked mail and within the mail was a table with a linked email inside with this inside, [Outbound SPAM] zit
Now why I ask for your help with this is because it was sent to my box, as am sure if I had a connection with Cisco in my Yahoo, it should come to my email, so am very confused and very internet security conscious, though I may not know everything I am doing security wise.
So am asking for any directions concerning this.
I will add two images concerning this here to.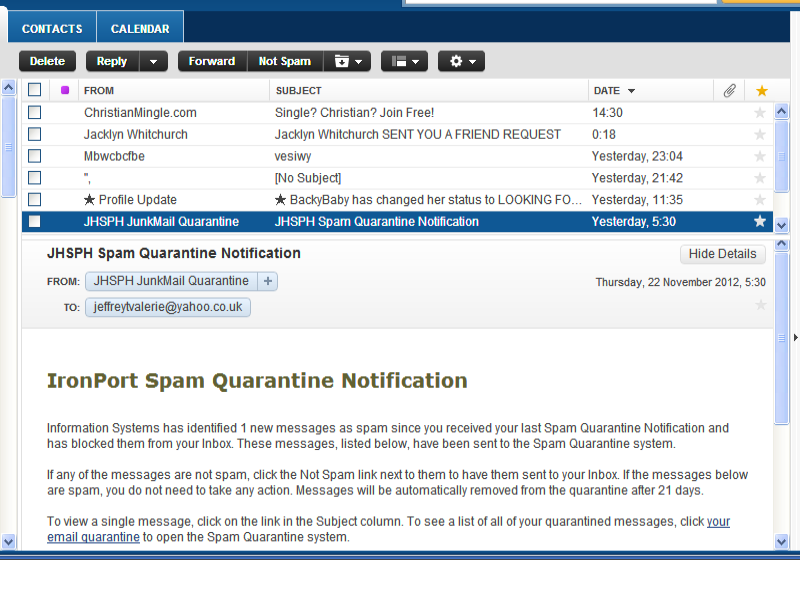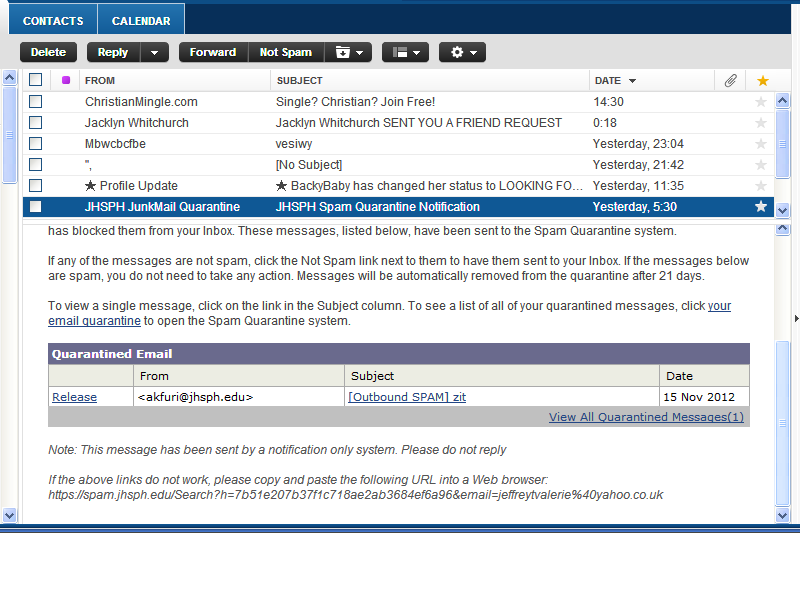 Highlighted
Enthusiast
Mark as New

Bookmark

Subscribe

Mute

Email to a Friend
Hi Jeffrey,
what I am supposing here is that a customer has set up antispam scanning for outbound messages (messages going from his domain to the Internet), and forgot to disable notification for detected spam, which is usually send to the recipient of a message. Obviously, notification only makes sense when the messages are inbound, i.e. coming to my corporate inbox, because that's what the spam quarantine is meant to be - to give people the possibility to review caught spam for any false negatives. But notification for outbound ecipient does not make sense, as like in your case, the recipient is outside the organisation and therefore has no access to the spam quarantine.
That being said, you could either ignore those wrongly sent notifications, or contact the sender domain and tell them that they have notification for outbound spam still turned on, and that this causes a lot of confusion (you are definitely not being the only one getting those notifications, without having any connection with us or the sender).
Hope that helps,
Andreas