Highlighted

Beginner
Mark as New

Bookmark

Subscribe

Mute

Email to a Friend
Monitor interface vlan with ASA 5505 in HA Active/Standby Deployment
Hi,
I doing HA Active/Standby Deployment with two ASA 5505. ASA documents mention that it will monitor all physical interfaces itself to decide a failover. But in my case I configure vlan interface instead of physical interface. My inside interfaces in each ASA connect to two diferent Switches. My question is if one inside physical interface (lead to one switch) down, does the failover occur? I suspect it does not, but I would like to make sure before doing HA.
Any replies will be appreciated.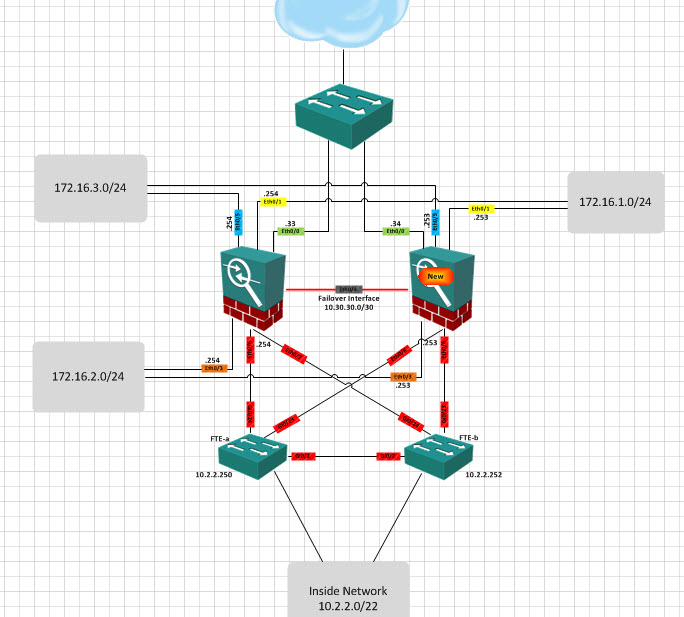 Beginner
Mark as New

Bookmark

Subscribe

Mute

Email to a Friend
Monitor interface vlan with ASA 5505 in HA Active/Standby Deploy
Hi, I usually instead of doing a cross-connect on the inside leave it to something like A-to-A and B-to-B if the switches are not doing VSS or VPC. So I would just connect eth0/7 from ASA-A to SW-A and similar on ASA-B. This makes it cleaner.
You can then control if you want to failover if the PO goes down or any 1 of the 2 interfaces in the PO go down.
I am not saying that your above design is invalid, but I have usually done this in the past.