Mark as New

Bookmark

Subscribe

Mute

Email to a Friend
Apparent Codec Issues with SIP Trunk
Hi all,
The scenario I have is:
A normal user must call to a PSTN Number and this call must go to a far-end device for processing (IVR or something like).
Voice GW --> SIP --> CUCM --> SIP Trunk --> Far-End Device
I configured the trunk and all related settings.
The user can successfully make the call and it reaches the far-end device but after around 10 seconds, the call drops.
I'm interacting with the guy responsible for the far-end device and he sent me this from his log files:
- 196.43... is the public IP associated with CUCM
- 172.21... is the far-end internal IP
- 13.95... is the public IP of the far-end device
- 0025821... is the number pattern number for the SIP Trunk
- 82660.... is my mobile number that I'm using for testing.
On his side, he says that he has G.711alaw configured.
I also have it configured on MTP Preferred Originating Codec
But its still giving me this error.
I also created a new Region, and ordered the codecs on a custom list. It shows like this: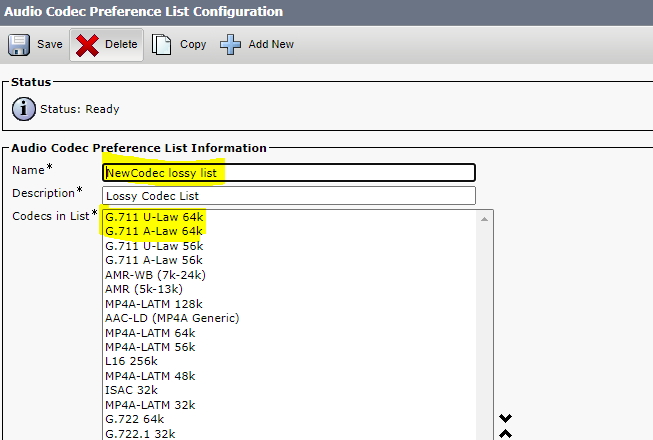 Any help why my CUCM is giving this "488 Not Acceptable Media" error?

Warm regards
-- Regards Edson Vuma
Mark as New

Bookmark

Subscribe

Mute

Email to a Friend
-- Regards Edson Vuma
Beginner
Mark as New

Bookmark

Subscribe

Mute

Email to a Friend
you need to paste the gateway logs, or at the very least the content of the SDPs from all the devices