Beginner
Mark as New

Bookmark

Subscribe

Mute

Email to a Friend
Button labels on Cisco 7916 expansion modules
I'm having a problem with the labels showing on the phone, but not on the expansion units. I have a phone with 1 normal line and the rest of the lines monitored.
ephone  47
  mac-address 381C.xxxx.xxxx
  ephone-template 3
  type 7975 addon 1 7916-24 2 7916-24
  button  1:9 2m1 3m2 4m3
  button  5m4 6m6 7m7 8m11
  button  9m12 10m13 11m16 12m17
  button  13m18 14m19 15m20 16m21
  button  17m22 18m26 19m27 20m28
  button  21m29 22m30 23m33 24m34
  button  25m35 26m36 27m37 28m38
  button  29m39 30m41 31m42 32m43
  button  33m44 34m45 35m46 36m47
  button  37m48
The phone template:
ephone-template  3
  mlpp service-domain dsn identifier 000001 max-precedence 0
  softkeys connected  LiveRcd Hold Endcall Trnsfer Confrn

The button 2-8 are configured the same as buttons 9-37, yet they behave differently on the phone and expansion modules. On the phone, the names appear as usual (but not the envelopes), yet on the expansion modules, only the envelopes appear.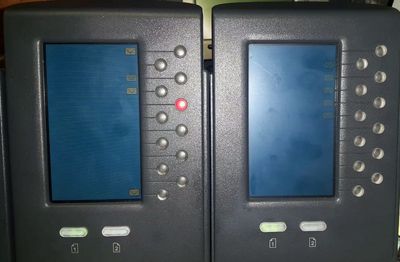 The buttons behave correctly in all cases. The problem is only with the labels. I have tried wiping cnf-files and recreating. I have also reset the phone.