Beginner
Mark as New

Bookmark

Subscribe

Mute

Email to a Friend
CUC transfer call to PSTN external number issue on E1(Cause i = 0x80AF - Resource unavailable, unspecified)
Dear Friends,
I have a 4 digit E1 link on Cisco router 2800 and use CUC 11 for IVR and CUCM 11 as call manager,
my problem is that when I set an external PSTN number for a User Input Digit in Call-Handler on CUC, router call the destination number but the call drop after of-hook the external PSTN phone ,
for example I set digit 8 for call my mobile phone and set "Transfer to Alternate Contact Number" with prefix of 9 for outgoing call, but as I test ,I hear the MOH for a second and then hear nothing but my mobile phone start ringing, then when I pick up the mobile, the call became disconnect.
Note:
-CSS and partition is OK because the call always place.
-I attach the all debug that I think you may need.
-I think my problem is related to codec(as you can see in "show voice dsp voice" log(no codec define for outgoing transferd call) but if I change the Region and Device pool of trunk and Voice Mail port and also LineCodec of CUC but no success.
thanks a lot.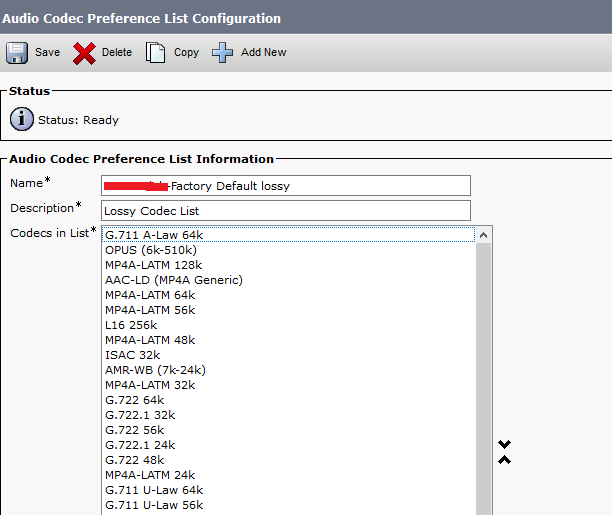 1 ACCEPTED SOLUTION
Mark as New

Bookmark

Subscribe

Mute

Email to a Friend
Dear Nupus,
I had two different problems,
1- when I called CUC number from outside with my mobile phone and the CUC transfer me to external number, the call dropped.
Resolvation :
as I check the "show voice dsp voice", & I found out that the problem is in codec and because of diffrent incomming (g711alaw) and outgoing(g711ulaw) in router and no transcoding, so I force the CUCM , CUC and Router to us g711alaw codec with Region, Advertised Codec and "codec command" and then restart all trunks in cucm, this problem solved.
2- when I use 2 FAX PSTN machine instead of mobile phone and the destination number, the machine give me the communication Error and FAX not revived in this situation.
Reservation:
I check the "show voice dsp voice" in this scenario too, and see the below result:
----------------------------FLEX VOICE CARD 0 ------------------------------
                           *DSP VOICE CHANNELS*

CURR STATE : (busy)inuse (b-out)busy out (bpend)busyout pending 
LEGEND     : (bad)bad    (shut)shutdown  (dpend)download pending

DSP   DSP                 DSPWARE CURR  BOOT                         PAK   TX/RX
TYPE  NUM CH CODEC        VERSION STATE STATE   RST AI VOICEPORT TS ABRT PACK COUNT
===== === == ========= ========== ===== ======= === == ========= == ==== ============
C5510 001 01 voice      24.3.3 busy  idle      0  0 0/0/0:15  31    0   10276/9935
C5510 001 02 voice      24.3.3 busy  idle      0  0 0/0/0:15  30    0    3397/2290
so I read the "Fax Relay Troubleshooting" Document and add "fax protocol pass-though g711alaw" command in related dial-peer and now in codec filed it shows "g711alaw" and the problem solved.
Thank you all.
https://www.cisco.com/c/en/us/support/docs/voice/fax-modem-over-ip/20227-faxrelay-tsguide.html