E1 PSTN redundancy with CUBEs in HA
Options
Mark as New

Bookmark

Subscribe

Mute
‎06-26-2016 03:03 PM - edited ‎03-17-2019 07:21 AM
Hi guys,
I have this scenario: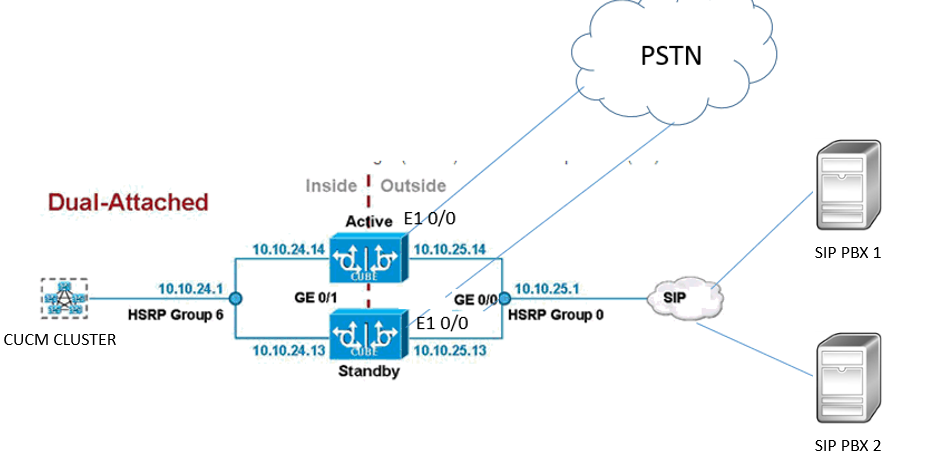 I have two cubes working in HA and they will have the HSRP configuration according to the guide "Cisco Unified Border Element High Availability (HA) Using HSRP", in order to send the calls to the remote PBX I will configure a sip trunk to the cucm and to the remote PBX's according the guide and the redundancy for those calls will be handled by the Active / Standby and HSRP operation of the CUBEs.
The issue that I have is how to handle the redundancy for the calls that will be going and coming to and from the PSTN using the E1's?
How can I setup the call flow in order to have as a first option the E1 in the Active CUBE and as a second option the E1 in the Standby CUBE in case the E1 in the Active CUBE is down?
In a pair of h323 gateways I can create in the cucm cluster a route group, then a route list and then change to false the system parameters stop routing on allocated number flag and stop routing on user busy flag in order to send the calls first to the E1 in the GTW1 and if it is down then to the E1 in the GTW2 but what alternatives do I have in a CUBE HA configuration?
Any ideas?
Thanks in advanced,