i'm not able to do SRST on H323 router support,... waiting you )>
Options
Mark as New

Bookmark

Subscribe

Mute

Email to a Friend
‎08-09-2016 12:15 PM - edited ‎03-17-2019 07:46 AM
Hello,.
kindly help me for below issue,
I need your support ,I cant do SRST :(
IOS Version c2800nm-ipvoicek9-mz.151-4.M4.bin
IP phones that i'm using with the Potocol (
with SCCP /
with SCCP/
with SCCP/
with SIP)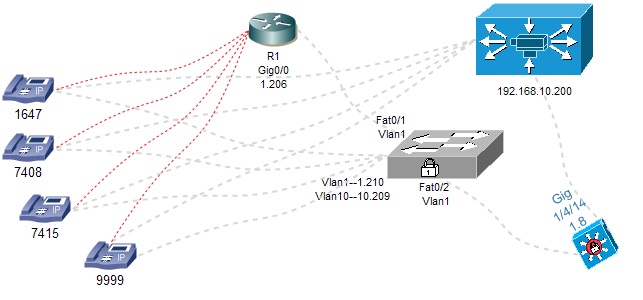 Kindly correct me what is the configuration that i have missed the configuration of the whole router its attached,
also the configuration that is related to SRST below,..
voice rtp send-recv
interface GigabitEthernet0/0
ip address 192.168.1.206 255.255.255.0
duplex auto
speed auto
h323-gateway voip interface
h323-gateway voip bind srcaddr 192.168.1.206
!
voice service voip
ip address trusted list
ipv4 192.168.10.200
ipv4 192.168.11.1
allow-connections h323 to h323
allow-connections h323 to sip
allow-connections sip to h323
allow-connections sip to sip
h323
sip
registrar server expires max 120 min 60
!
!
voice register global
max-dn 192
max-pool 1
!
voice register pool 1
id network 0.0.0.0 mask 0.0.0.0
application voip
voice-class codec 1
call-manager-fallback
secondary-dialtone 0
max-conferences 8 gain -6
transfer-system full-consult
timeouts interdigit 5
ip source-address 192.168.1.206 port 2000
max-ephones 20
max-dn 20
system message primary SRST Mode active
!
Note:
i'm not able to do command Mode SRST under voice register global i have asked about the answer was its by default SRST applied,