Beginner
Mark as New

Bookmark

Subscribe

Mute

Email to a Friend
Unity Cxn 8.5 with Exchange 2007
Hello,
I hope any of you could help me with a problem I have when deploying Unity Cxn 8.5 with and Exchange 2007.
I configured the Unified Messaging Service this way:
========================================================
Type : Exchange
Display Name : Exchange 2007
Web-Based Auth Mode : NTLM
Web-Based Protocol : HTTPS
[Checked] Validate Certificates for Exchange Servers
Exchange servers:
[Selected] Specify an Exchange Server
Exchange Server : <IP Address of one server of the cluster>
Active Directory Account Used to Access Exchange :
Username : The one created by the AD Admin.
Pass : the same...
[Checked]
[Checked]

Message action for email : Relay the message
Message Action for fax : Accept the message
========================================================
Everytime I do the Test, I get this error, which says that the certificate for the server is invalid.
After this, I asked the Exchange Administrator to send me a valid certificate. I did it and then I loaded it into the Certificate Management under OS Administration. I selected the tomcat-trust option when performing this, but still it didn't work. It continues giving me the same error.
The Exchange administrator asked me for the CSR and then made a new certificate, based on this file. Still it doesn't work.
When I go to Users -> Users -> Select a valid user -> Edit -> Unified Messaging Account and do the test for the service, I get this errors: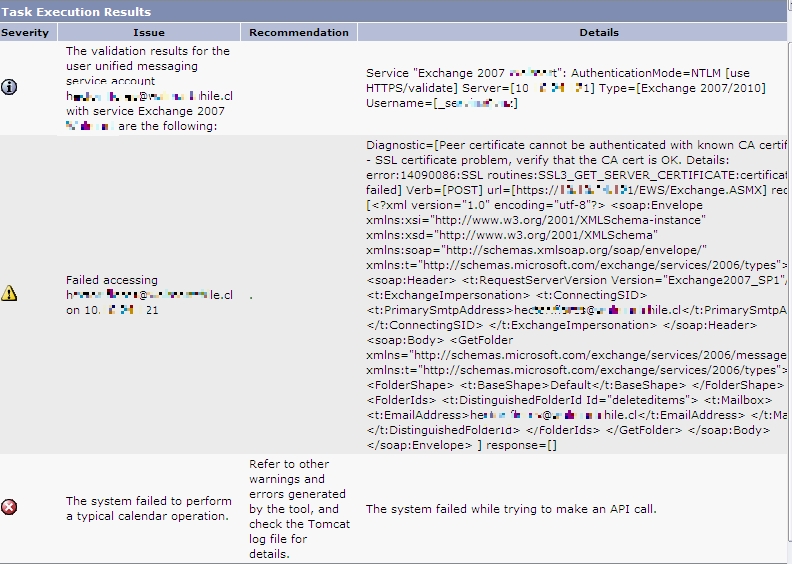 Please consider that I wasn't the one who created the system account for this service. The guy who did it said he read and applied all the requisites I send him to the account created (the ones contained in the "Unified Messaging Guide for Cisco Unity Connection Version 8.x" guide).
I would be very very very thankful if someone help me with this. I don't have how to prove if the certificate or the system account are well generated.
If you need more information, please let me know.