Options
Mark as New

Mark as Read

Bookmark

Subscribe

Email to a Friend
OpenStack can be very challenging to install. The procedures and documentation have improved over time, but there is still a lot to do. Configuring OpenStack to work appropriately with OpenDaylight and other components of the OPNFV architecture can be even more challenging. Thanks to Peter Bandzi, we have a couple videos that can help. But before jumping into the videos, let's provide some background.
For OPNFV deployment, proper network preparation is key. Most requirements are covered in the Installation Guide. This can be found in the Documentation section at: https://www.opnfv.org/software/download
For Arno release, the Documentation lists the following:
Jumphost Requirements
CentOS 7 (from ISO or self-installed).
Root access.
libvirt or other hypervisors disabled (no kernel modules loaded).
3-4 NICs, untagged (no 802.1Q tagging), with IP addresses.
Internet access for downloading packages, with a default gateway configured.
4 GB of RAM for a bare metal deployment, 24 GB of RAM for a VM deployment.
Network Requirements
No DHCP or TFTP server running on networks used by OPNFV.
3-4 separate VLANs (untagged) with connectivity between Jumphost and nodes (bare metal deployment only). These make up the admin, private, public and optional storage networks.
Lights out OOB network access from Jumphost with IPMI node enabled (bare metal deployment only).
Admin or public network has Internet access, meaning a gateway and DNS availability.
Note: Storage network will be consolidated to the private network if only 3 networks are used.
Bare Metal Node Requirements
IPMI enabled on OOB interface for power control.
BIOS boot priority should be PXE first then local hard disk.
BIOS PXE interface should include admin network mentioned above.
Execution Requirements (Bare Metal Only)
In order to execute a deployment, one must gather the following information:
IPMI IP addresses for the nodes.
IPMI login information for the nodes (user/pass).
MAC address of admin interfaces on nodes.
MAC address of private interfaces on 3 nodes that will be controllers
INSTALLATION:
Foreman/Quickstack is one of the two deployment tools offered as part of OPNFV Release 1.
Before you try to deploy, make sure you look at the wiki: https://wiki.opnfv.org/get_started_experiment1
The latest installation instructions can be found: https://www.opnfv.org/software/download
Deploy scripts are cloned as follows:
git clone https://gerrit.opnfv.org/gerrit/genesis
This approach installs everything from public repositories. This might be an issue when you use it behind a proxy.
Here is a little patch which modifies some parts of deploy script in order to make it work behind a proxy. This however works only for virtual deploy: https://github.com/pbandzi/patch-proxy
The following two videos help walk you through the requirements and installation of your OPNFV deployment.
Requirements: https://youtu.be/u1euPA4cwfQ
Installation: https://youtu.be/qPtSZLdhrYY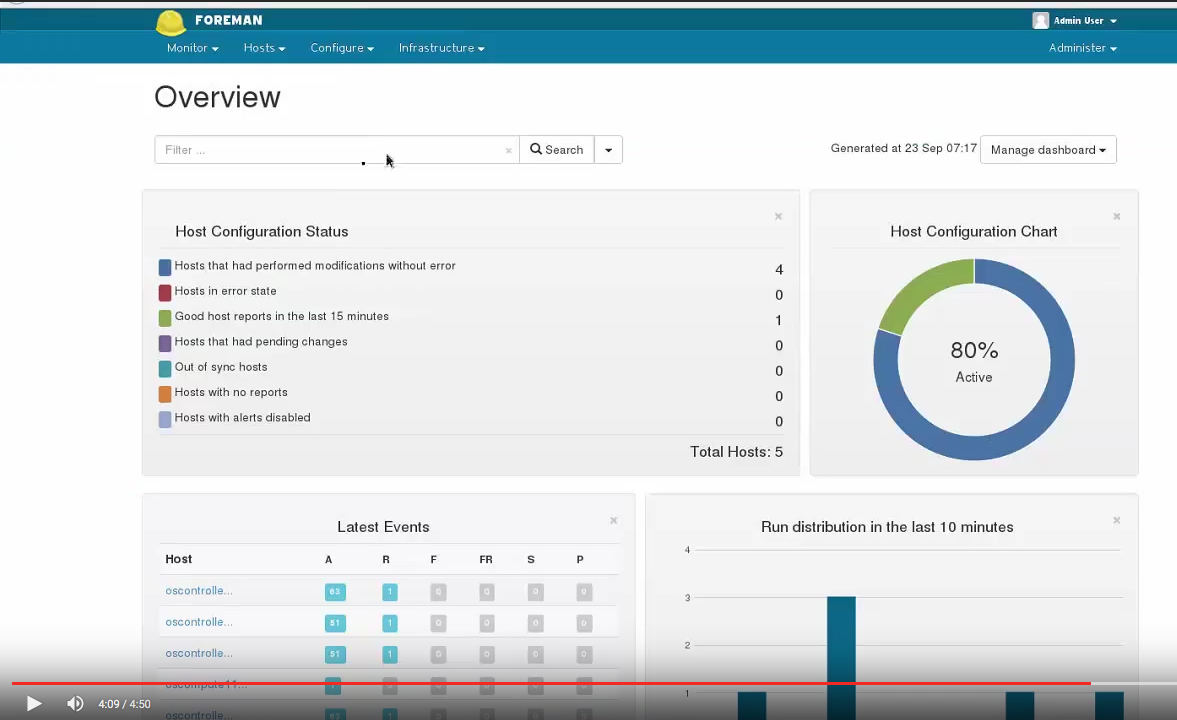 Good luck! Let us know how it goes. Please share any suggestions you have for improvements.
You must be a registered user to add a comment. If you've already registered, sign in. Otherwise, register and sign in.