Cisco Employee
Mark as New

Bookmark

Subscribe

Mute

Email to a Friend
All In Awards (NSO win in GC): Your Support and Vote matter!
Dear Team
1st in Greater China: HKT orchestrated by Cisco NSO (Network Services Orchestrator)
Our deal has been shortlisted as the finalist in Q3 FY16 All In Awards. This is the only shortlisted nomination from Hong Kong and is the first NSO win in Greater China.
The deal size of Phase One is around $1.7M which includes software product (NSO) and services (TS and AS). The solution enables the customer to automatically provision and orchestrate thousands of their network elements and devices, thus reducing capex and opex, reducing time to market, and minimizing service outages due to human errors through Digitization and Automation. The win allows Cisco to acquire a major footprint in the Orchestration Layer which represents a critical control in the customer's Under-laying Network Infrastructure. Certainly a good NSO reference case for the Region and Cisco!
Please click the following link to know more about this win. Hopefully this will be your top favorite case!
https://smartzone.brightidea.com/AllInAwards/D11236
We really want to make this the final winner of Greater China in Q3FY16 All In Awards. Casting all your 5 valuable voting chips (by following three steps only) for our win case will help make it happen! Thank you very much for supporting Hong Kong.
We would also appreciate your extended support to ask your team members to cast their voting chips for our win case.
Step 1:
Click the following link.
https://smartzone.brightidea.com/AllInAwards/D11236
Step 2:
Click "Add Chips" in the upper left corner.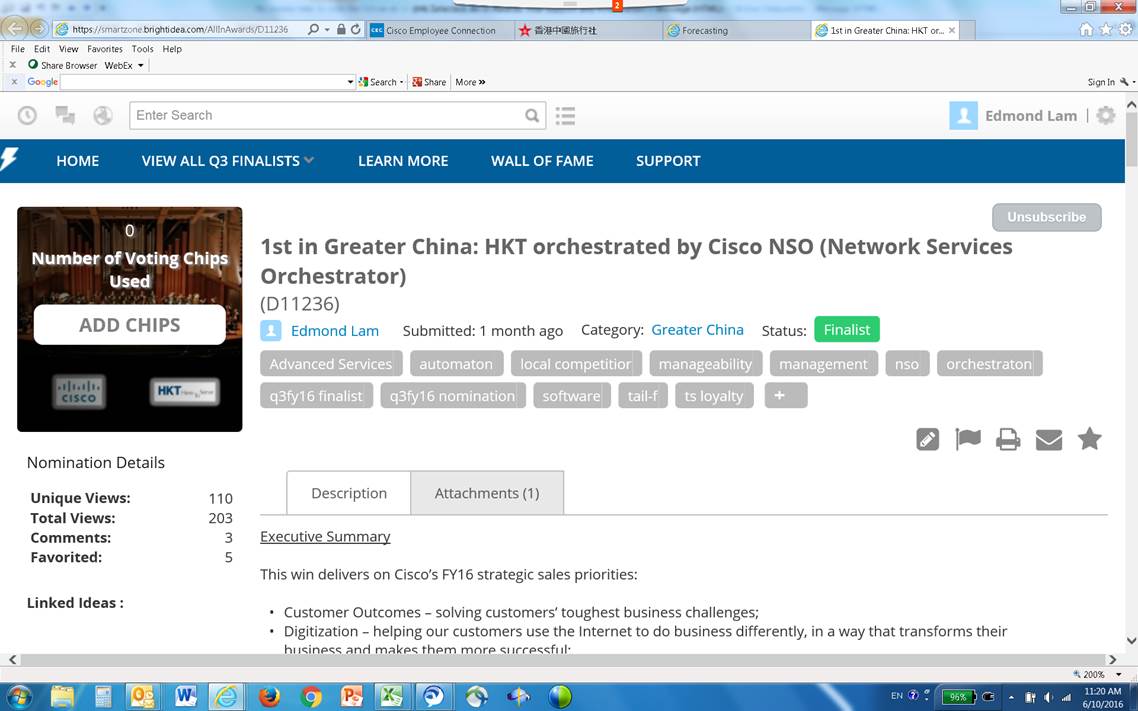 Step 3:
Cast all your 5 voting chips for our win case, you will see the following result.
Regards
Edmond Lam