Highlighted
Beginner
Mark as New

Bookmark

Subscribe

Mute

Email to a Friend
Hi,
I have a ring of 8 routers in a ring runing OSPF , can detect LOS ,so I want to implement RSVP TE with FRR.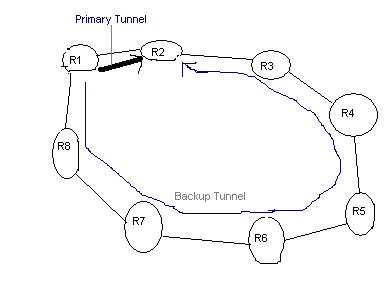 For Traffic going from R1 to R4, it will use the Primary Tunnel R1--R2 and then r3, and finally arrive r4. If link between R1--R2 fails, will the traffic quickly move to Backup NNhop tunnel ( as shown in diagram) and hence the user traffic which was sourced behind R1 and wanted to reach destination behind r4 will follow this path r1--r8---r7---r6---r5---r4---r3-----r2-----r3---r4 . As I understand that the Primary FRR & Backup TE Tunnel will have same destination ( its mandatory.. right ?). This creates unwanted traffic on R4--R3--R2 segment...as long as the R1--R2 link is down.
Is this the design problem with One hop tunnel.. ?
My friend say after link failure on R1--R2, IGP convergence will take place and this unwanted upstream movement of user traffic will stop. He couldn't explain why ?
Can somebody explain ...
Thx,
Gaurav
Highlighted
Contributor
Mark as New

Bookmark

Subscribe

Mute

Email to a Friend
On failure of R1-R2 link, traffic will follow the backup tunnel. There will not be unwanted traffic on R3-R2 because the backup tunnel is from R4 to R1 via R8. So don't worry about that designers have already taken care about that.
regards
shivlu jain
Highlighted
Beginner
Mark as New

Bookmark

Subscribe

Mute

Email to a Friend
Hi Shivlu,
Thx , perhaps I did not get that ....The primary tunnel is one hop tunnel and my backup tunnel is multi hop away ( may be I shud not use NNHOP earlier )..I guess the backup Tunnel shud have the same destination as Primary , so it will traverse all the ring ( other way) and then reach R2 , then move towards R4. So there is extra traffic from R4----R3---R2 while the traffic ( source behind R1 & destination behind R4 ) is moving to the end of Backup tunnel. From end of backup tunnel .. anyways it has to come down to R4..
rgds,
Gaurav Prakash