Beginner
Mark as New

Bookmark

Subscribe

Mute

Email to a Friend
Cisco ISE + Cisco Meraki Vlan override limitations
Dear,
We are installing a new WIFI infrastructure for a test site. In total 80 other sites needs to be done.
The client has chosen Cisco Meraki as their new wireless infrastructure. (MR 42)
There is also an upgraded ISE to version 2.1.6. This server will be used to authenticate all SSID's.
The Dot1x SSID will be used for a lot of different devices. Laptop, phones, BYOD, Guest (PEAP with guest accounts)
ISE will need to override the correct vlan's.
Meraki does support vlan override but only with vlan ID. (no vlan name is possible confirmed by local Cisco Meraki person)
The problem is that all the sites are not standardized meaning guest vlan is different for each site.
So per site we will have around 8 rules in ISE multiplied by 80 sites is many... many rules in ISE.
Maybe not a software limitation it's not scalable and it is easy to make mistakes also will be a lot of extra work.
I tried to create a workaround what is not working. (therefore I am posting this)
Under network devices groups in ISE, I created special network groups called:
GUEST VLAN ID
CORP VLAN ID
BYOD VLAN ID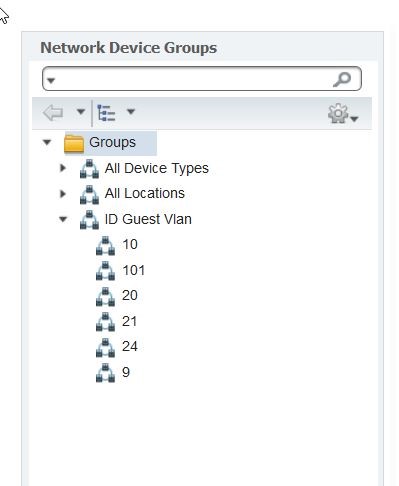 Under each network device I placed the correct VLAN ID as the Name.
I created a custom authorization profiles returning the name of the VLAN ID group but is not working. :S

In the packet captures there is no tunnel- private-group[81] when doing this.
What I'm thinking that ISE returns the full path example: "GUEST VLAN ID#54" and should only (to get it working) only return 54.
I created a similar workaround already with AD attribute and that's working.
Could this be checked, if this is possible in anyway?
This could change 640 to 8 rules what would be great for me to implement and for the client to manage.
Also 8 rules are easily recreated (still not possible re-import ISE rules) and possible to import and export devices and device groups
Kr
Niels
1 ACCEPTED SOLUTION
Advocate
Mark as New

Bookmark

Subscribe

Mute

Email to a Friend
So the likely culprit is that the value for NDGs is not the "end value" in the string, but the entire path such as "ALL Guest VLAN ID#10", not simply the value "10". The attribute is not of the valid type and would become null.
Another way to achieve result with similar logic is to simply match on NDG in Authorization Policy Rule condition such as...
IF DEVICE:Guest_VLAN_ID Equals "All Guest VLAN ID#10" THEN permissions = VLAN 10
You may still end up with additional AuthZ rules, but you will reduce list to the subset of unique NDGs which map to common VLAN schemes.
Additionally, you can use Network Conditions to match a group of Network Devices.
/Craig