Beginner
Mark as New

Bookmark

Subscribe

Mute

Email to a Friend
Bandwidth gaps in SNMP measurement
Hi!
I set up an SNMP-based Cacti bandwidth grapher. Polling time is usually 5 minutes, but I needed more resolution so I set it up to 1 minute. It's working great on everything, so the Cacti installation is fine, but there is something weird about the interface statistics reported from a couple of 6506 devices.
I am including a picture. The two graphs are the two ends of the same link. The graph the top is taken from the ASR1002-end. The one on the bottom is taken from the other end, a Catalyst 6506 switch with a Sup720-3B supervisor.
Please note the following in the picture:
* The gaps, where both have the same polling interval: 1 minute.
* How the ASR as a 130 to 140 Mbps upper limit. The 6506 is at 180 to 200 Mbps, which appear to compensate the gaps (at a lower limit of 70 to 80 Mbps).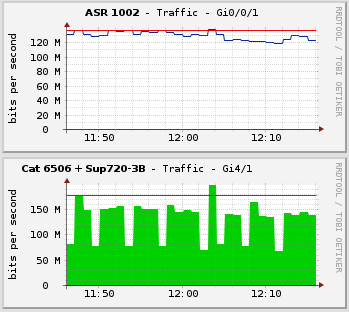 Some extra information:
* I used "show interfaces Gi4/1 stats" in exact 1-minute periods to manually elaborate a table based on the reported "Chars In" and analyze it on a spreadsheet. I found extreme highs and lows similar to those on the graph, as opposed of a smooth line like in the ASR graph.
* I have seen this happens in all interfaces of the 6506. I am seeing this in another 6506 too. ASRs are not affected.
* I tried diffing the show interface output of both, finding no significan differences (Keepalives, being the only major difference).
* The poller interval is global to Cacti so I can't set separate intervals, Also, I need to have the 1-minute resolution.
* Both, ends of the link have load-interval set to 5 minutes. However, due to the way SNMP works, shouldn't be any relevant to SNMP readings.
Has anyone seen anything similar? Is this due to misconfiguration or is this a limitation of the platform?
1 ACCEPTED SOLUTION
Enthusiast
Mark as New

Bookmark

Subscribe

Mute

Email to a Friend
that was the only thing I could think of, and unfortunately not the right answer. The 64 bit counters should be fine even with a 1 minute interval. I had seen something similar with mrtg years ago, and with a 5 minute interval anything over about 114 Mbps will give a picture like what you're seeing, and changing to 64 bit counters was the fix.
Sorry, but I don't have any other suggestions for you (but I will admit I am not familiar with cacti).
chris