Highlighted
Explorer
Mark as New

Bookmark

Subscribe

Mute

Email to a Friend
Cisco Prime Infrastructure 1.3 and Configuration Archive - Is this supposed to work?
My experience with this has been bad on an EPIC scale. In the amount of time I've dumped into trying to get Prime Infrastructure to gather the configurations from the switches it found during discovery, I could have logged into each switch via putty and collected the configurations myself. The option for gathering configurations is clearly in the GUI and in the online help file so at some point somebody at Cisco decided that they wanted Prime Infrastructure to tackle this mind-numbingly simple task. Here's what I know. This is how Configuration Archive is configured under Administration -> System Settings -> Configuration Archive: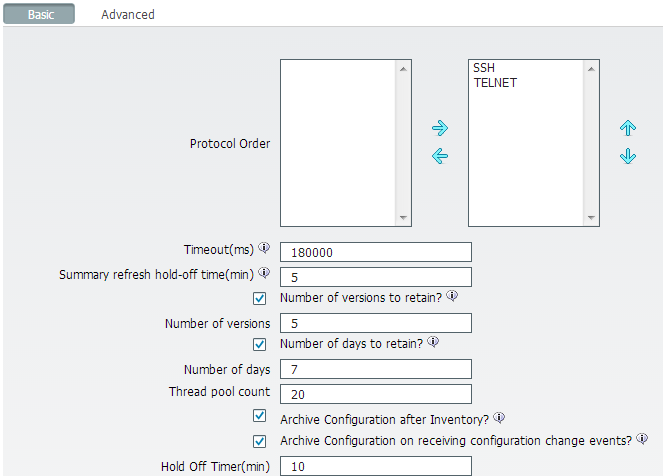 My interpretation of this is that I should expect Cisco Prime Infrastructure to utilize SSH (first) and then TELNET (if SSH fails) in an attempt to login to the device(s) and gather the configuration. I think that's a reasonable assumption. So I went to Operate -> Configuration Archives , I highlighted a Cisco Catalyst 3550 Series switch from the list of available devices and I clicked the "Schedule Archive" ribbon button. On the ensuing pop-up screen I clicked the "Submit" button and it successfully created my job. In the log file I can clearly see that it's trying to collect configuration from the one device I selected. I logged into the target device and turned on the following debugs:
General OS:
AAA Authentication debugging is on
TELNET:
Incoming Telnet debugging is on
SNMP:
SNMP packet debugging is on
SSH:
SSH Client debugging is on
I can see that the Cisco Prime Infrastructure appliance is sending SNMP queries to the target device. What I cannot see is any attempt by the Cisco Prime Infrastructure appliance to login to the target device via SSH or TELNET. I have an access-list with Cisco Prime Infrastructure's IP address permitted to hit the target device via SSH but I do not see any matches on the ACL. I can even validate that Cisco Prime Infrastructure CAN ssh to the box because I'm able to ssh to the target device FROM the CLI of the Cisco Prime Infrastructure appliance. I assume, from all of the observations I've made, that it's not even trying to login to the target device. The trace-level log information from the ifm_configuration_archive.log file reveals the following information:
[2013-04-11 10:31:23,135] [pool-25-thread-16] [service] [ERROR] - Thread Id : [4,561] : IFM_CONFIG_ARCHIVE_ERROR_DETAILS: [Error in fetching RUNNINGCONFIG file] : IFM_CONFIG_ARCHIVE_ERROR: [com.cisco.ifm.config.archive.service.exceptions.XDEFeatureExecutionException: Unknown error]
Has anybody in Cisco Prime Infrastructureland had a positive experience with Configuration Archive? If so, what's your secret sauce? I need to know before I have a stroke.