Highlighted
Beginner
Mark as New

Bookmark

Subscribe

Mute

Email to a Friend
LMS 3.2 Configuration Out-of-Sync Issue
Dear all,
Recently, I configure the RME 3.0.1 in LMS 3.2 to poll the Cisco device configuration. Right after the devices configuration getting polled completed, I found a lot of devices are identified as out of sync in the RME home page. With checking using the Config Diff Viwer as below, I found the mis-aligned configuration to be occured in 'Processed' configure as the RME 3.0.1 grouped some configure statement for different configuration group only (e.g. As shown in the below diagram, the same configure command 'dot1x system-auth-control' is grouped into 'Global' or 'Dot1x-dot1x system-auth-control' section at all. That make the RME classified that as 'out-of-sync' configure in the system.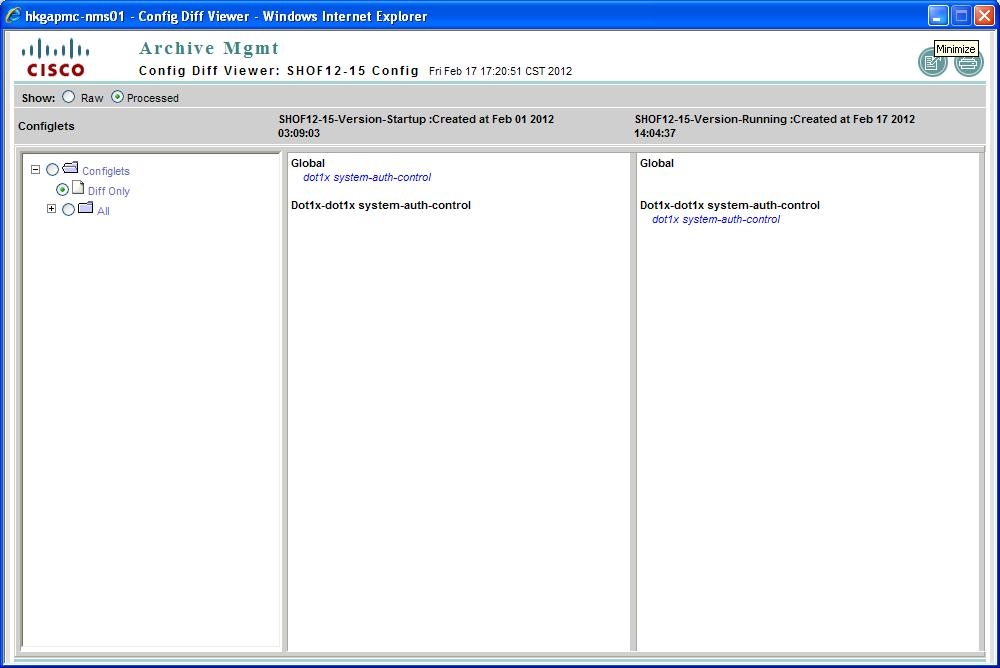 As from the above screenshot, when I checked on 'Raw' button on the Shows section, the system prompt no different encountered as shown in the below diagram.
Please advise any method of approach for configure the RME to avoid this no different configure will classified as out-of-sync configuration in the application.
For your comment and advise, please. Thanks.
HC Wong