Beginner
Mark as New

Bookmark

Subscribe

Mute

Email to a Friend
Prime LMS 4.1 Alarms problem (lost alarms).
Hi,
We are currently implementing the new Prime LMS (4.1), and we met some strange problems with the «Alarms» (footer/bottom right).
Under implementation we had a bunch of false positive alerts, so we went in and ticked of all of them to choose «Own it» and «Clear».
Something happened and the browser crashed, and when opening the browser again and browsing to the "Fault monitor" from "Alarms" could we see that all the alarms was cleared from the view, but LMS was still telling us that there is two alarms (down in the footer/bottom right).
When going into the "Fault monitor" from clicking on "Alarms" we got the "spinning wheel of death".

The browser crashes after a while and we have to log in again.
Now, when we have some alarms after rebooting the WLC's, we get the 6 alarms from interfaces down, but the two remaining alarms it's talking about is nowhere to be found.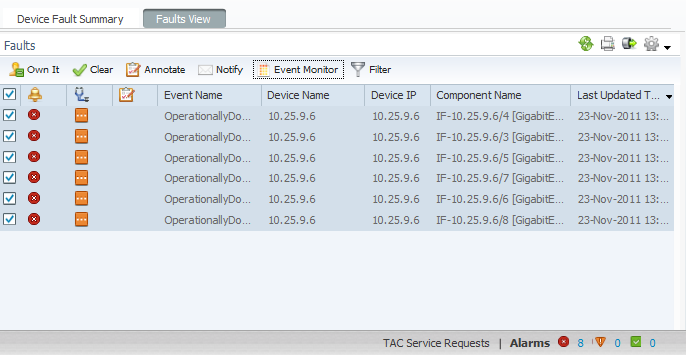 Future more, the browser crashes yet again after a while and we have to log in again.
If we are doing other tasks, and keeping away from the "Fault monitor" everything is working fine.
The browser crash/lms hang occurs only when accessing the "Fault monitor" section.
We have looked everywhere for what is causing this. Something with the two alarms that's lost in the system keeps the browser/lms to crash. But damned if I can find where to get rid of them / clear them.
Any tip or insight would be wonderful. Thanks in advance
2 ACCEPTED SOLUTIONS
Mark as New

Bookmark

Subscribe

Mute

Email to a Friend
Hi Marius,
That are 2 issues you have. I've not seen the browser crash in Firefox 8 so far. Luck maybe.
The other issue of the difference in number of errors in the summary view and in the fault monitor is more common. Also seen in 4.0 and 4.01.
Unfortunately I have not (real) found a solution for this. Other than reiniting the DFM databases and rps files.
I've done this once to see the problem reapear 2 days later. A week later it was gone again.
I guess the summary is showing generated info and is not doing a real query on the fault tables. The database are undocumented so it will be hard to repair and it may reappear under "some" circumstances.
Cheers,
Michel
Mark as New

Bookmark

Subscribe

Mute

Email to a Friend
The resource consuption in IE is huge. Seems bettter in FF. Don't run it on the server itself !! (Well unless you doubled the servers specs perhaps)
I thought fault management page is working better in v4.1 than in v4.0. Maybe not....
Cheers,
Michel