Beginner
Mark as New

Bookmark

Subscribe

Mute

Email to a Friend
Disable Security Intelligence on FTD Access Control Policy
This might sound strange but I want to have a policy on a 2110 FTD Appliance that does not use Security Intelligence.
The firewall is an internal device that is used to screen PCI users from the rest of the network, as such it is not able to communicate with the outside world - so I don't need the DNS scannig features - also I haven't bought a threat license for the devices.
I have deleted the DNS Feeds but it still seems to want to use this.
Is it possible to remove the Security Intelligence section completely - or is this a way to force you to buy a threat policy for every firewall?
Thanks
Giles
Cisco Employee
Mark as New

Bookmark

Subscribe

Mute

Email to a Friend
Hi Giles,
You can't remove the Security intelligence tab/option. If you don't wish to use it, remove all the categories from blacklists which will make sure nothing is blocked by this feature.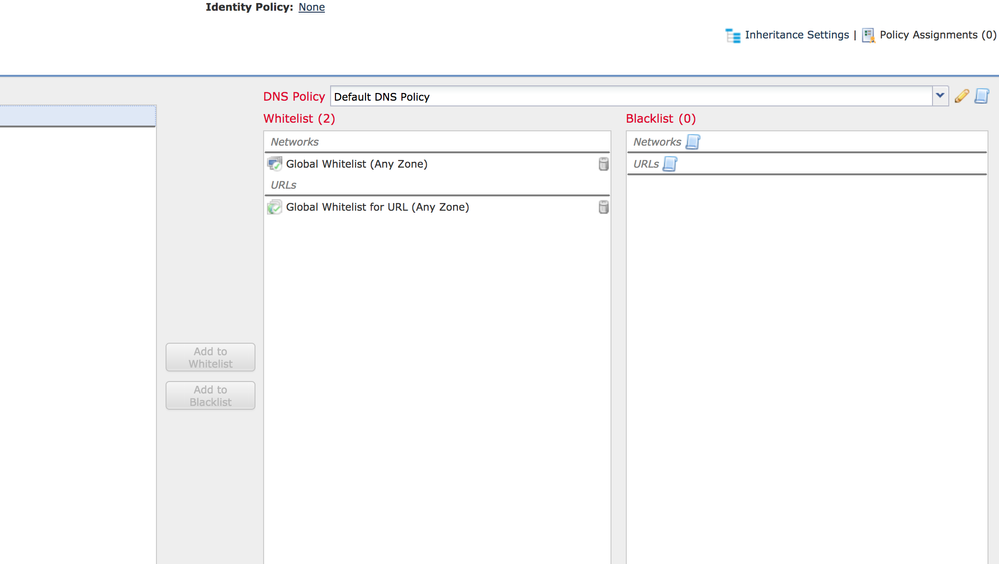 For the DNS policy, use the default one and edit the policy and rules and disable both blacklist and whitelist.
Hope it helps,
Yogesh
Beginner
Mark as New

Bookmark

Subscribe

Mute

Email to a Friend
HI Yogesh
That almost completely worked, I don't have any license errors on the FTD policy but I now have the firewalls complaining that the feeds (which they are not using are out of date). Any idea on how to clear this one out (the firewalls were on eval before I licensed them). The only thing I can think is to remove the policies and this may cure the issue if I re-apply them. I think during eval they ran with all the features enabled.
Giles