Highlighted
Beginner
Mark as New

Bookmark

Subscribe

Mute

Email to a Friend
FirePower publish internal webserver
Hi all,
I am new to FirePower, and now migrating ASA 5520 to FirePower 2110 (FTD 6.2.2).
I have finished initial setup of FirePower 2110 by FirePower Device Manager (FDM), specified the outside interface with 113.x.x.2/24, inside interface with 192.168.1.2 for example.
We have 64 public IP addresses.
I am going to publish internal webserver to internet by FDM.
Followed the cisco document to create Providing Access to an Inside Web Server (Static Auto NAT).
https://www.cisco.com/c/en/us/td/docs/security/firepower/622/fdm/fptd-fdm-config-guide-622/fptd-fdm-nat.html#task_3FA99245557D4DA4860FE90BCEF771A1
Where HKCitrixIT01Internal is the internal address 192.168.1.5 for example. And HKCitrixIT01Ext is the public address 113.x.x.5 for example.
I can't find reference about the Access Control rule for the web server publishing, so simply create a Access Control rule to allow any service.

However it's failed.
I can ping the outside interface publish IP 113.x.x.2 from internet, but ping to the 113.x.x.5 is failed.
And I check the Policies hit from Monitoring page, hit is zero .....
Any advise?
Thanks.
Notmen
1 ACCEPTED SOLUTION
Highlighted
Beginner
Mark as New

Bookmark

Subscribe

Mute

Email to a Friend
Hello Roy,
I ran into a similar issue when I was first using FDM. I think the issue that I ran into is that if you accept the default NAT policies configured when you first load FDM, the (any,outside) PAT statement has precedence over the other policies.
Edit this policy and change the source interface to inside (Or whatever the nameif of your segment is).
Try a packet tracer to your internal server from an internet address before and after your change and you should see a change in the behavior of your NAT processing in the packet-tracer output.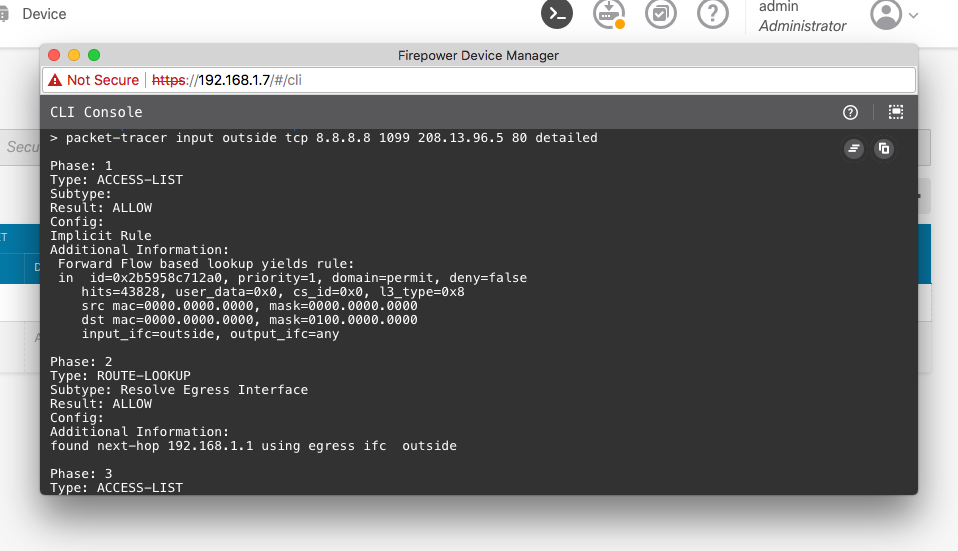 Hope that helps!
-A