Cisco Employee
Mark as New

Mark as Read

Bookmark

Subscribe

Email to a Friend
With advances in wireless connectivity technologies and emerging new use cases such as VR, HD imaging and high performance work-stations that handle high volume data, network-access speeds are increasing from designed limits of 1 Gigabit per second (Gbps) to 2.5 Gbps, 5 Gbps and potentially 10 Gbps! There is a need to support this speed acceleration in access layer with a scalable backbone network. Upgrading enterprise cable infrastructure to support this is not cost effective since in many cases cumulative costs can exceed millions of dollars, including time-intensive and invasive disruption to the physical infrastructure. Besides CapEx savings, backwards compatibility is a key consideration for Enterprises to ensure gradual migration without creating bottlenecks. With several pioneering innovations including Campus optimized dual rate optics, and Cisco Catalyst® 9000 family switches that support 100GE and 25GE, Cisco will facilitate network speed and architecture transformations with investment protection.
New Speeds transitions in Enterprise
Recently, 40GE has gained momentum as a potential migration option for aggregation layer upgrades requiring scale beyond 10GE. 40GE is a great option for green-field deployments, but suffers from some challenges for brown-field environments. 40GE optics use QSFP+ form factor that require expensive adapters for backward compatibility with existing 10G SFP+ optics. Moreover, in deployments that use multimode fiber, 40GE can be quite restrictive since it supports only one-third the reach as that of 10GE based deployments.
25GE is a good alternative that provides a seamless migration path from 10GE with better price-to-value, avoiding cable upgrade expenses, and reducing total cost of ownership (TCO). Emergence of SFP28 has changed the network speed upgrade path from 10GE->40GE to 10GE->25GE->100GE. SFP28 based 25GE optics use the same form factor as SFP+, while providing 2.5 times the bandwidth. Dell'Oro predicts that that Ethernet industry will be heading to 25GE/100GE technologies instead of 40GE; and 25GE is expected to outgrow 10GE by 2021.
One of the main drivers for this phenomenon is availability of new optics with SFP28 technology that offers a better cost curve along with longer reach capabilities suitable for Campus deployments. Enterprises can significantly reduce the number of cables, power, and device footprint with SFP28 technology in aggregation layer. Considering the compelling economics of 25GE, core layer with 100GE in a three-tier architecture is a no brainer! Using four lanes of 25GE, 100GE backbone platforms require lesser cabling relative and thus benefit from reduced space requirements and cost savings. Further, 4x25GE breakout cable support provides Enterprises additional options for conveniently migrating to an extensible 100GE network with investment protection.
Cisco leading the industry with 25GE Enterprise optimized Optics
Progressive Enterprises that start evaluating options to embrace these new speeds face some key questions – how to maintain same supported distances as 10GE (300m/400m), how to stage seamless network upgrades, will cost/performance justify new investments? Designed to overcome the challenges of 40GE, Cisco's SFP28 portfolio offers customers a wide variety of high-density and low-power options addressing these considerations.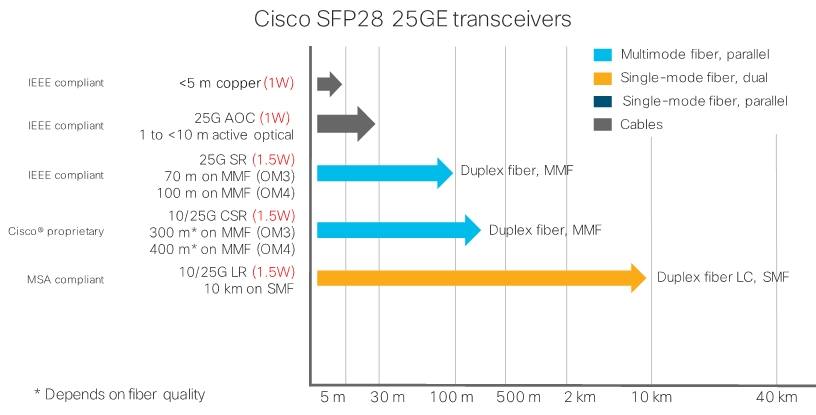 Some of the key benefits include –
Longer Reach Cisco's innovations, SFP10/25-CSR, to support high-density multi-rate optics enables Enterprises to drive up to 300m/400m over standard dual strand OM3/OM4 fiber.
Ease of Adoption – Cisco's dual rate optics, SFP10/25G-CSR for multi-mode fiber and SFP10/25G-LR for single-mode fiber provide seamless migration path with un-surpassed investment protection.
Better Price-to-Performance – Cisco's single laser low cost optics consume less power and provide higher density relative to quad laser based 40GE optics, thus resulting in OpEx savings from power and cooling and lower TCO.
Along with introduction of new optics, Cisco has continued to innovate with new generation of programmable ASIC that enables network upgrades to 25GE and 100GE in Enterprise possible now
Cisco Catalyst 9500 – Industry's first Enterprise optimized 100G, 40G and 25G Platform
Cisco's Catalyst switches are a foundation of a new era of intuitive networking with support for SD-Access. With introduction of 25GE and 100GE in Campus, a first in industry, we anticipate to lead a major shift in network architectures and product portfolios. Offering increased scale and flexibility, the new Catalyst 9500 platforms, powered by UADP3.0, deliver six times the performance of the existing platforms in that product family.
Cisco Catalyst 9500 Platforms

With this latest addition to the Catalyst 9000 series, Cisco now offers a comprehensive portfolio of 10GE, 25GE, 40GE and 100GE in Enterprise. For more details about Catalyst 9500 series, please refer to the latest datasheet or www.cisco.com/go/catalyst.
You must be a registered user to add a comment. If you've already registered, sign in. Otherwise, register and sign in.