Cisco Employee
Mark as New

Mark as Read

Bookmark

Subscribe

Email to a Friend
2016 marks the beginning of Cisco WAAS and Akamai Connect (AKC) deployment at our flagship industry event, Cisco Live. This post will cover the process for that deployment at Cisco Live Berlin, design of the network, and reports showing the optimization results.
PRE-EVENT ASSUMPTION:
Optimization focused on Web based traffic including Apple and Microsoft Windows Updates.
NETWORK DESIGN:
WAAS Deployment Overview:
Two UCS C220 Rack Servers (one server per DC core)

VMWare ESXI 6.0

Ten vWAAS6k (6000 Concurrent Connections) instances across two DC Cores with Akamai Connect enabled

WAAS version 6.1.1a

VM Requirements: 40 vCores, 110 GB RAM, and 10 TB of Storage.

Interception and Distribution: two ASR 1001s running AppNavXE
Cisco Event Infrastructure team had a set of 3 top design priorities and requirements.
| Design Priority | WAAS Object Caching |
| --- | --- |
| Reliable and proven technologies | Deploying multiple vWAAS instances on a UCS server allowed for quick and easy setup. Redirecting traffic from the edge routers using AppNavXE ensured that load is distributed evenly and failed vWAAS nodes could be moved out of the pool. |
| Secure Network | Access to the WAAS Central Manager is limited to secure network only. |
| Flexible Design - many last minute changes | Using vWAAS allowed for flexible horizontal scaling. If additional caching capacity is required, a new vWAAS instance could have been enabled quickly, and AppNavXE would ensure traffic distributes properly to additional resources. |
Network Diagram:
RESULTS:
Peak of concurrent devices connected to Cisco Live Wi-Fi: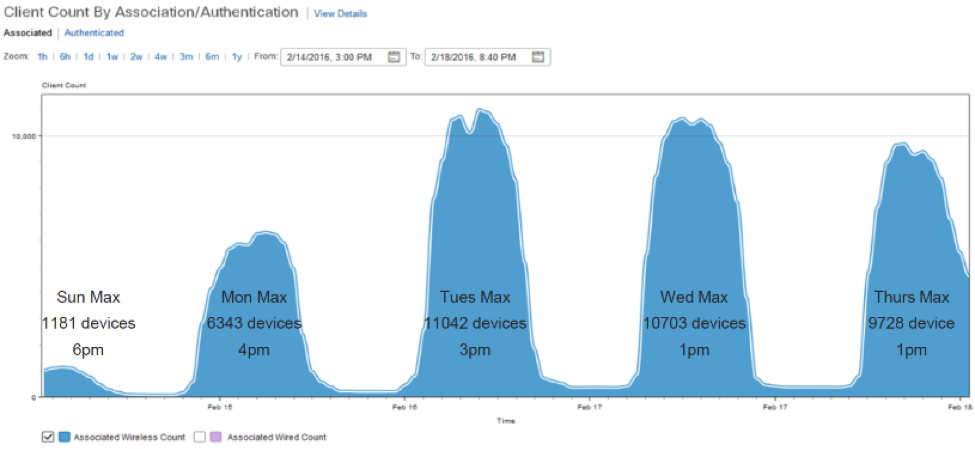 HTTP bandwidth offload - aggregated over a week
The graph below shows the total amount of data offloaded from the WAN by using caching. During the busiest days, over 300GB was offloaded amounting to over 30% of HTTP data served from cache.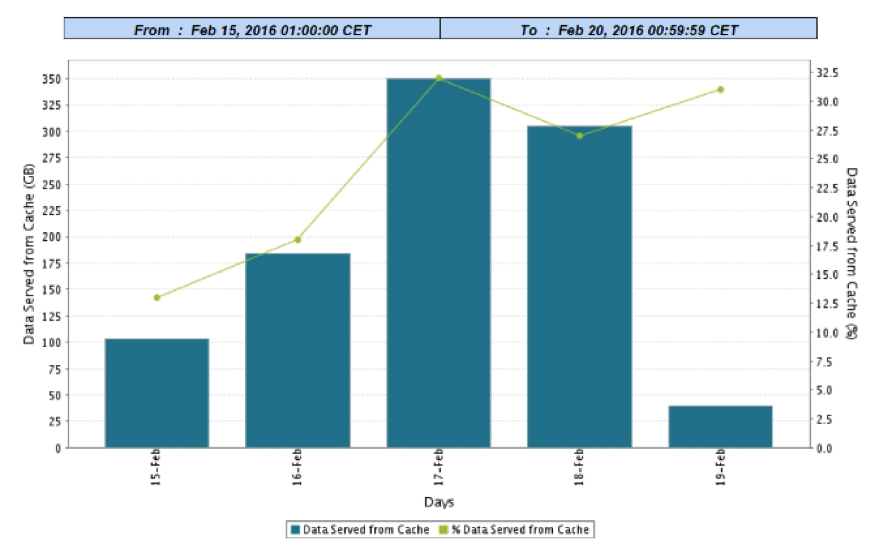 HTTP response time saving - daily report for a single vWAAS
This report shows the amount of time saved due to content being downloaded from cache. This type of report is available per device. The graph below shows a single vWAAS at its busiest period (around 11am); caching saved over 18h in download time.
Top 10 sites based on WAN data offload - daily report for a single vWAAS
The graph below shows a list of Top 10 sites based on their WAN offload in GB. (Cisco Live had a dedicated IOS App that attendees could use to navigate around the venue and schedule sessions.)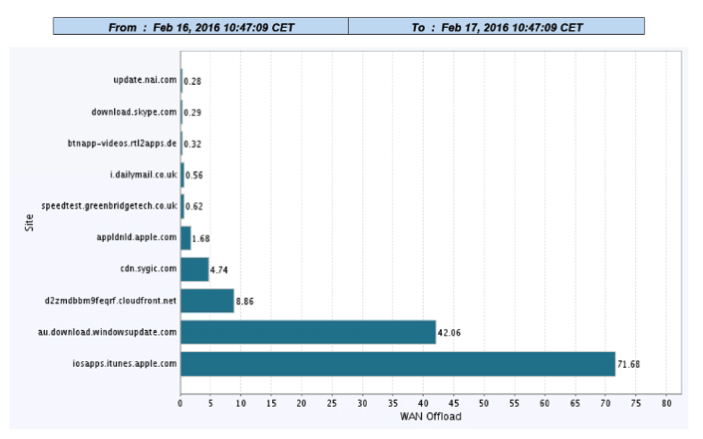 SUMMARY
Throughout Cisco Live Berlin, Cisco WAAS and Akamai Connect offloaded a total of nearly 1 TB of data from the WAN links. During peak times, up to 1GB of data per every 5 minutes was delivered from cache. There were also significant improvements to user experience for downloading applications and general browsing; saving at the peak 18h of download time in a 1h period.
The top objects delivered from cache were:
Apple IOS and App Updates

Windows Updates

Virus Definition Updates (Norton and McAfee)
Overall user feedback about the event was positive. There we no complaints raised at all about performance or stability.
(Credit: data and deployment details provided by Anthony Lockart, Cisco Product Manager)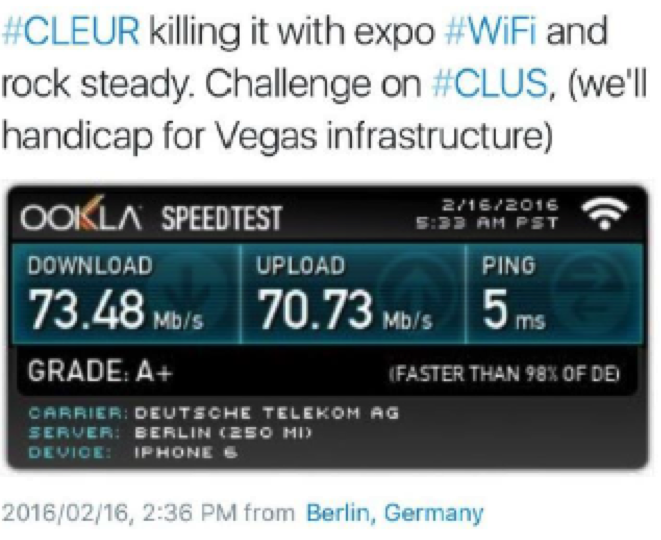 You must be a registered user to add a comment. If you've already registered, sign in. Otherwise, register and sign in.