Options
Mark as New

Mark as Read

Bookmark

Subscribe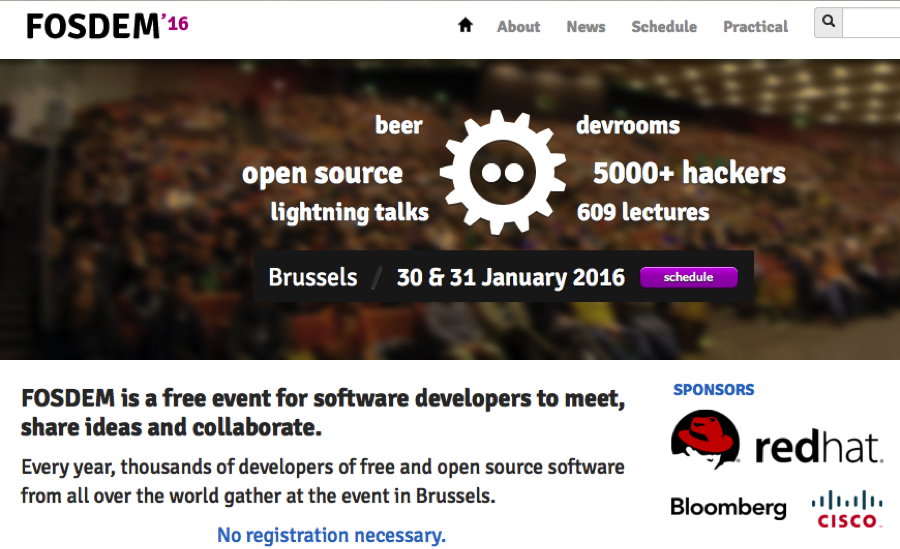 FOSDEM 2016, Jan 30-31, Brussels, Belgium
I experienced FOSDEM for the first time, and what an experience it was. I invite you to relive it with me.
Its 8:37am Saturday morning, light rain, walking from hotel to a bunch of bus stops in front of Brussels Central Station. Which one goes to the university hosting the conference? Probably the one with the guy wearing the Mozilla jacket and another with a LinuxWorld cap. Assumption confirmed as I approach to see a demo of Firefox OS running on another guys mobile. Bus arrives jam packed, we all cram in too, off we go. No commemorative photo, can't reach phone in pocket. Bus stops km short of destination, roadwork prevents bus from going further, everyone piles off, raining harder now, follow crowd in general direction of university, I hope. Arrive at university, no registration area, no map, mobile app with map and list of sessions I plan to attend has crashed, raining harder, what have I gotten myself into - a great weekend dedicated to open source software.
What is FOSDEM? It's widely considered the premier open source conference in all of Europe. Its held every year at Université libre de Bruxelles in Belgium. FOSDEM is a free, non-commercial event, organized by the open source community for the open source community. The goal is to provide open source software developers and communities a place to meet to:
get in touch with other open source developers and projects
attend presentations on various topics by project leaders and committers
promote development and benefits of open source solutions
Developer rooms (devrooms)
Core to the FOSDEM experience is the concept of devrooms. Devrooms are a place for teams to discuss, hack and publicly present the latest directions, lightning talks, news and discussions. Devrooms often exist for open source projects, but they can also be created for specific topics or areas of interest. For example, this year witnessed the first ever SDN and NFV devroom (more on this later).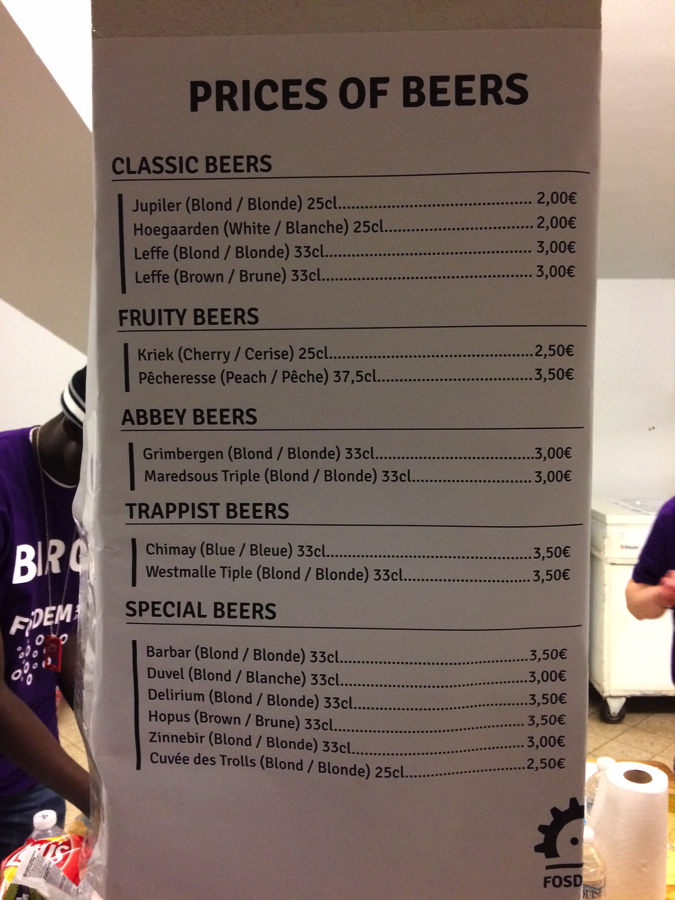 The Bar
Equally central to the FOSDEM experience is the bar. This is a place where much of the real team building and direction setting happens.
How many times have you attended a talk with presenter and/or multiple members of the audience talking past each other in violent agreement?
The solution - take it to the bar.
How many times have you raced to a session only to find the room full and the door closed for capacity reasons?
The solution, take it to the bar.
How often have you been in Belgium for a conference and found you have precious little time for a representative sample of some of the worlds finest beer?
The solution, take it to the bar.
Because the conference is held at a university rather than a proper conference center, the venue is quite spread out. Its daunting for a first time attendee to find the building for a given session, not to mention navigating the maze of passageways once inside. Because the conference is free and community funded, there is no coffee in the morning, no food at lunch or breaks, and no sponsored social events. This combination makes the bar even more essential to conference attendees. The extensive selection and reasonable prices appeal to ever taste and budget.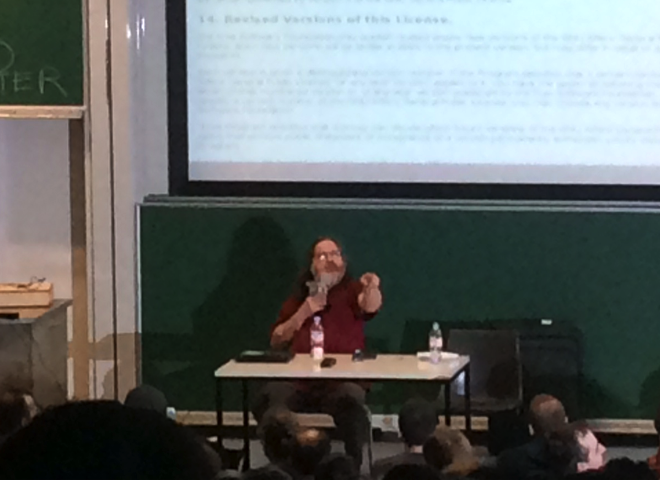 Passion for Open Source
The love of open source was apparent everywhere you turned. This is what holds the conference together and helps it overcome all challenges. No where was this demonstrated better than in the "A discussion with Richard Stallman" session. It was standing room only. No punches were held as topics such as open source vs. free software, government and corporate use/misuse of open source, and can you really trust anyone or any foundation were debated. Yet when it came time for an auction to raise money for the Free Software Foundation, the bidding for a stuffed GNU fetched 342 Euro.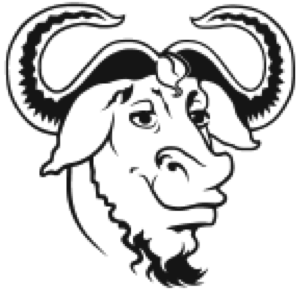 www.gnu.org
Enormous Breadth and Depth of Content
FOSDEM welcomes everything open source. 5000+ developers, 600+ presentations, ten "main" tracks, and dozens of devrooms. There is something for everyone, and almost always too much too choose from. Like a kid in a candy store, I naively started out running from room to room trying to attend talks of particular interest, only to be frustrated by getting lost, arriving late, and/or having the doors closed due to the session reaching max capacity. A strategy that worked much better for me and that I recommend to first time attendees is to pick one or two devrooms and focus on those, Stay in the same room, or at least the same general area, for an extended period of time. Not only will you have a better chance of catching the entire session, you will also build some continuity with the community and grasp the prevailing themes of those devrooms. For me, the most rewarding time spend was in the SDN and NFV devroom.
SDN and NFV Devroom
This was the first FOSDEM featuring an devroom dedicated to open source networking. The SDN and NFV DevRoom covered two related fields:
Software Defined Networking (SDN), including virtual switching, dataplane performance, open source SDN controllers, and virtual routing
Network Functions Virtualization (NFV), covering open source NFV platforms, network functions and applications, and other related topics
Sessions ran all day Sunday and featured presentations on Data Plane Development Kit (DPDK), OpenVSwitch (OVS), OpenSwitch, distributed SDN, OpenDaylight (ODL), Service Function Chaining (SFC), container networking, and open source packet generators, IMS cores, and network management solutions. A huge thanks to Dave Neary, Open Source Community Manager, RedHat, who spearheaded the creation and organization of the devroom. This devroom was the highlight of my FOSDEM experience, and several others I met in the devroom felt much the same way.
One of the most valuable takeaways was the mutual expansion of our human networks as a direct result of meeting new colleagues within corporate, university, and open source communities. It was great to hear about the foothold open source had established for network functions and services such as SIP VoIP servers and IMS deployments. The session titled Experiences with OpenDaylight and Service Function Chaining (SFC) shared valuable insights gained as a result of deploying OpenDaylight with SFC (see "Conclusions" slide).
So yes, despite my initial challenges as a first time FOSDEM attendee, this was indeed a great weekend dedicated to open source software. I have marked my calendar for next year – not just to include myself within the community, but also to contribute to the valuable content and insightful presentations in the SDN and NFV devroom in 2017.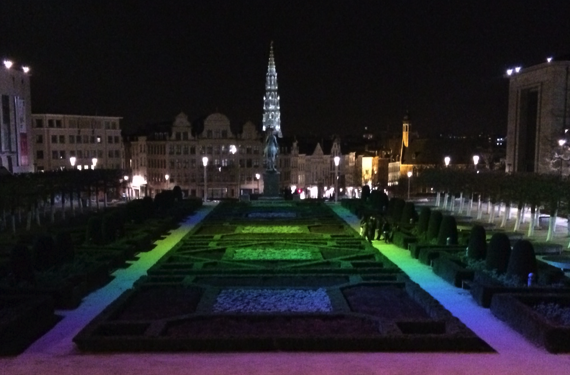 You must be a registered user to add a comment. If you've already registered, sign in. Otherwise, register and sign in.