Hall of Fame Cisco Employee
Mark as New

Mark as Read

Bookmark

Subscribe

Email to a Friend
I guess is was a little over a year ago talk about the next major release of LMS began to surface. The switching teams (Cat6K, Cat3K, etc.) were unleashing powerful new features to the market such as EnergyWise, Auto Smart Ports, TrustSec, and Smart Install; and they needed a tool that could provision and monitor these features. The initial idea was to develop a new tool from scratch with power, simplicity, and usability in mind. The thing was, CiscoWorks LMS already had a lot of tried and true components that laid solid groundwork for managing these features. So instead of building yet another management tool, LMS was going to get a makeover.
While LMS had the power and flexibility needed for these advanced features, it needed a usability boost. The first thing that needed to happen was the lines between the LMS applications had to go away. LMS needed to become a more seamless management platform. So, the old familiar names like Resource Manager Essentials, Campus Manager, and Device Fault Manager were replaced with Inventory, Config and Image Management; Network Topology, Layer 2 Services and User Tracking; and Fault Management.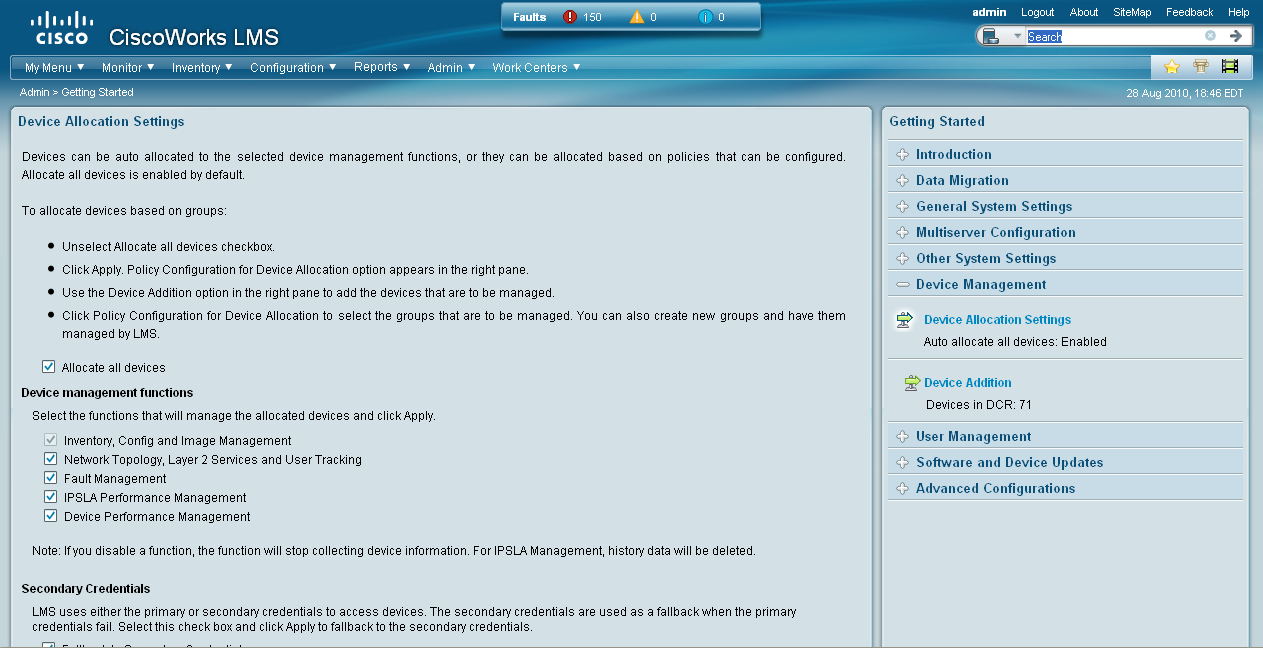 The application-oriented paradigm was changed to me more task and user-oriented. That is, if you need to view the configuration for a device, you navigate to Configuration > Configuration Archive > Views > Version Tree in the new "Mega Menu." The Mega Menu is an ever-present navigation bar at the top of the screen that provides you access to all of LMS with very few clicks.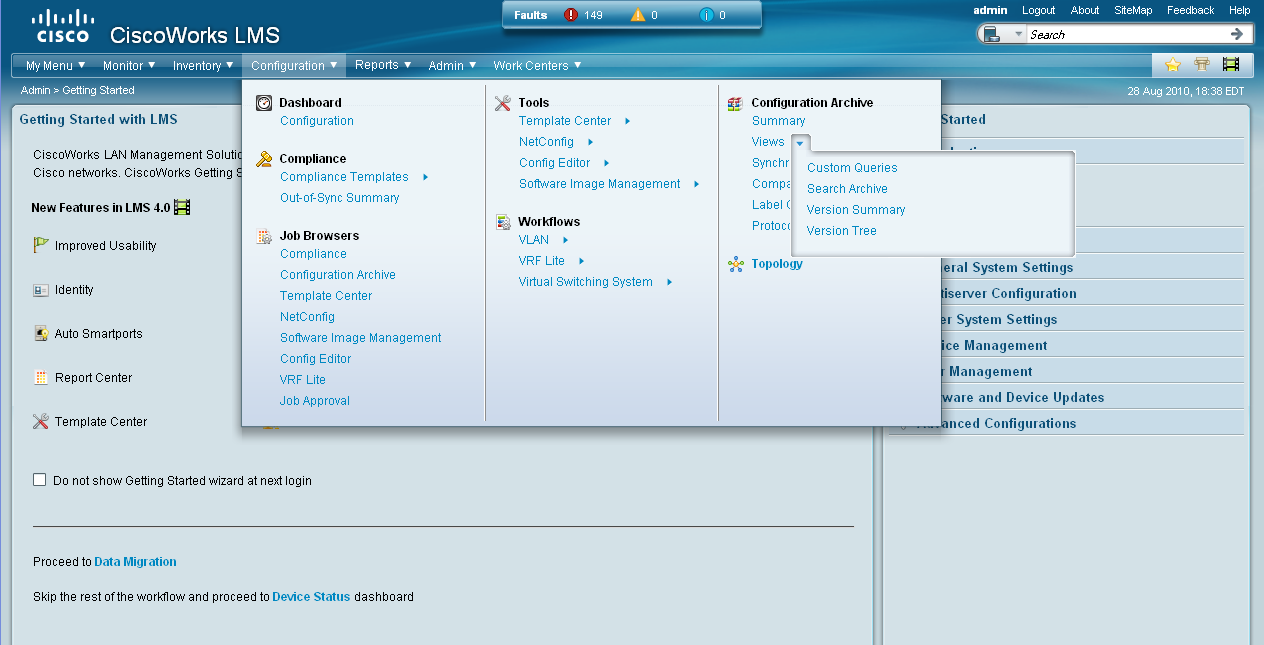 For those of you that liked the old LMS 3.2 navigation (hey, I don't blame you), a legacy menu is there to help you find your way.

Plus, once you find the screen you want, the "breadcrumbs" will show you the way to get back there using the Mega Menu.

Another usability addition to LMS is the global search interface. This ever-present search box lets you find devices, users, jobs, and tasks no matter where you are in LMS. If you can't remember where something lives in LMS 4.0, just do a quick search for part of the task name.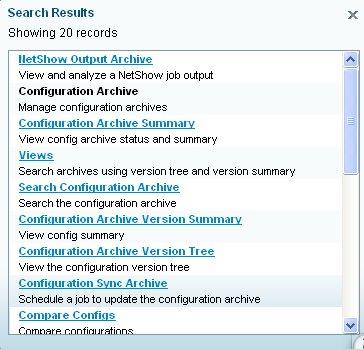 While usability was a big focus for LMS 4.0, it wasn't the only focus. LMS 4.0 is quicker to install and setup that 3.2. The installation uses more of a batch approach to first install all of the bits to disk, then perform the necessary configuration tasks. Once installed, LMS presents you with a Getting Started workflow that walks you through each step from adding SMTP information, to discovering your devices.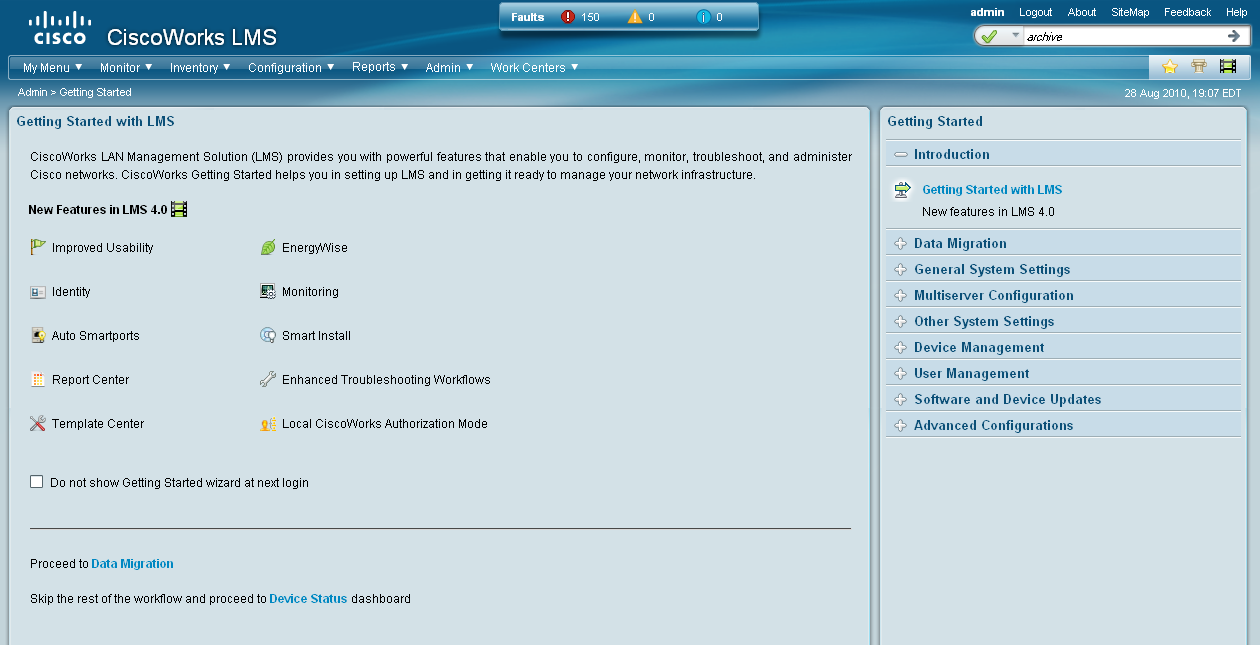 In LMS 3.2, performance management came from the Health and Utilization Monitor (HUM) add-on. In LMS 4.0, performance management is included out of the box. In fact, LMS 4.0 monitors many performance and reachability metrics automatically. The new Monitoring dashboard provides a great NOC-friendly view into the health and performance of your network.
As I said in the introduction, the original idea behind LMS 4.0 was to manage cutting edge switching features. LMS 4.0 does this in a big way using new Work Centers. Each Work Center is dedicated to one of the switching features (EnergyWise, Auto Smart Ports, Identity, and Smart Install). The Work Centers provide monitoring, provisioning, and reporting capabilities for each feature.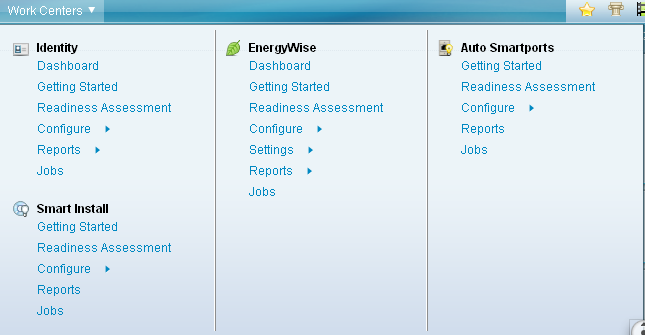 One of the most popular features in LMS is Netconfig. Netconfig has always offered a number of templates to simplify configuration tasks for a large number of devices. LMS 4.0 takes Netconfig to a whole new level with a new configuration template wizard. The Netconfig you know and love is still there in LMS 4.0, but on top of that, teams within Cisco put together some templates based on leading practices that allow for much more flexible feature configuration.
Hint: Stay tuned to this feature as things are going to get a lot more exciting once LMS 4.0 is released.
A lot of users are moving to CiscoSecure ACS 5.x. If they happened to integrating LMS 3.2 with ACS, they quickly find that this feature is no longer supported in ACS 5.x. Not to worry. LMS 4.0 provides built-in role-based access control. That's right, you can now create custom roles and limit device access without ACS. Sure, you can still use ACS (even ACS 5.x) for authentication, but LMS 4.0 gives you a very flexible RBAC authorization model out of the box.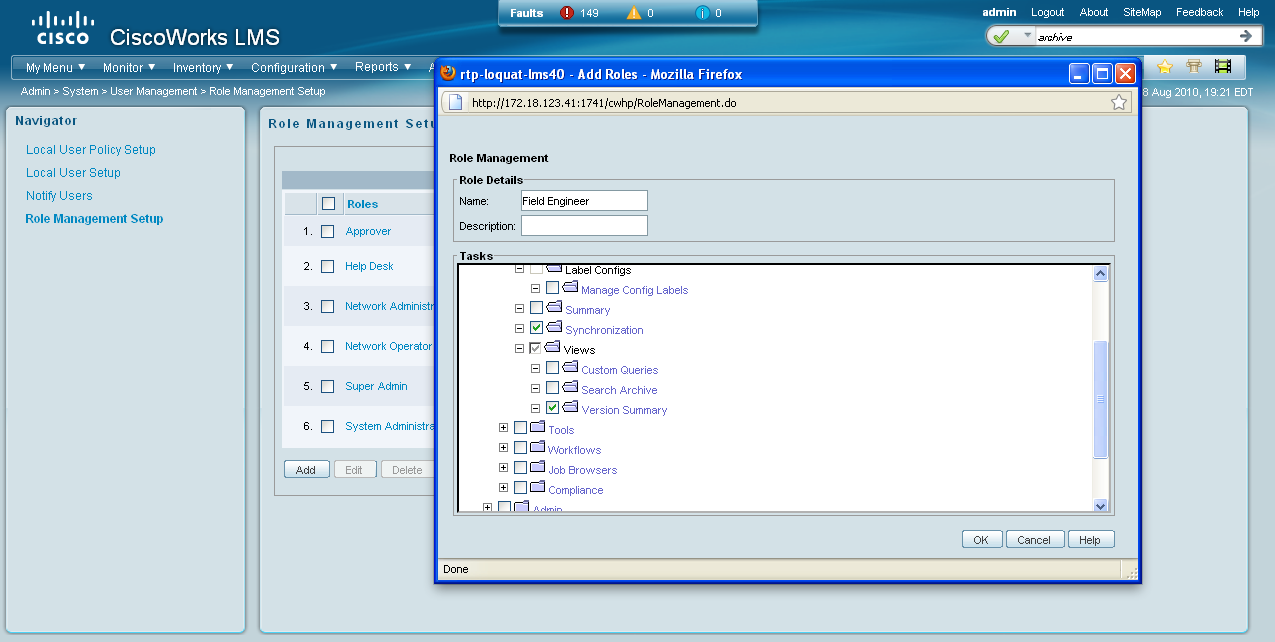 While these features are nice, there are two features that I personally really like. The first is the dynamic new dashboards. These screens really use the Web 2.0 framework to provide a high level of interactivity. For example, remember LMS 3.2's tabular views? The text would often times wr
ap in
we
ird wa
ys
Ugh. LMS 4.0 has dynamically resizable columns that allow to view all of the text on one line. The other nice thing about these dashboards is the device info pop-up. If I mouse-over device names, I get a pop-up that tells me about the device, and can take me to Device Center, CiscoView, show my syslogs, etc. This is very cool. It just feels intuitive.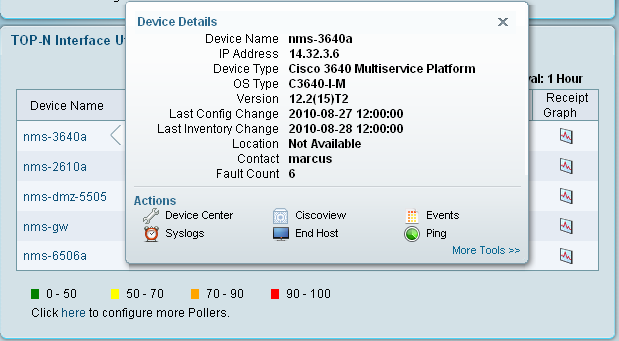 The other feature I like is more geeky. And, yes, I wrote it. Being in TAC, we often saw problems where LMS daemons would lock up, and we would need to process thread dumps. This was fairly tricky to do on Windows. Now in LMS 4.0, there is built-in support for easily getting thread dumps from any of the LMS Java processes. Just run:
pdmsg DAEMON:tdump

For a given LMS DAEMON name, et voilà, your thread dump will be waiting for you. This makes any problems with LMS much easier to troubleshoot.
I really think LMS 4.0 is going to be a great product, but if you're an LMS old-timer like me, you may need to take some time to get used to the new UI. Once I did, I really found it easier to use, and I was able to more quickly navigate around to different tasks. While I tried to highlight a number of the new features of LMS 4.0, I didn't get to them all. As the release date approaches, more material will be posted to Cisco.com to whet your whistle.
LMS 4.0 was an exciting journey from idea to wire-frame mock-ups to release. Okay, the journey's not over yet. We will be releasing LMS 4.0 in late September of this year. Why the wait? We want to make sure we do it right. While you wait, if you have any questions about LMS 4.0, contact ask-lms-team@cisco.com, or comment here, and I'll make sure your feedback makes it to the right people.
36 Comments
You must be a registered user to add a comment. If you've already registered, sign in. Otherwise, register and sign in.