edited on:

‎03-01-2019

‎04:40 PM
World IPv6 Day
For 24 hours (June 8, 2011 0:00 UTC to June 9 0:00 UTC), a number or prominent websites will participate in World IPv6 Day and offer their content using IPv6 in addition to IPv4. In advance of that date, network administrators should verify the state of their IPv6 capabilities.
As of May 31, 2011, the Cisco TAC homepage at http://www.cisco.com/tac has a banner than will use Javascript to perform a quick IPv6 connectivity test. If you have problems with the TAC homepage or have an error message on the World IPv6 Day baner, please start a discussion thread in the World IPv6 Day Support Community. In fact, you can ask any IPv6 related question there.
Note that you do not need to use IPv6 in order to connect to IPv6 capable sites since the sites will still also support IPv4. However, hen a site is IPv6 capable, networks that can speak IPv6 will attempt to use use IPv6 to reach those sites. The well prepared network administrator will test in advance.
Connecting to an IPv6 Capable Web site
Point a client browser at http://test-ipv6.com to see if that device is ready for World IPv6 Day. A typical success screen looks like this: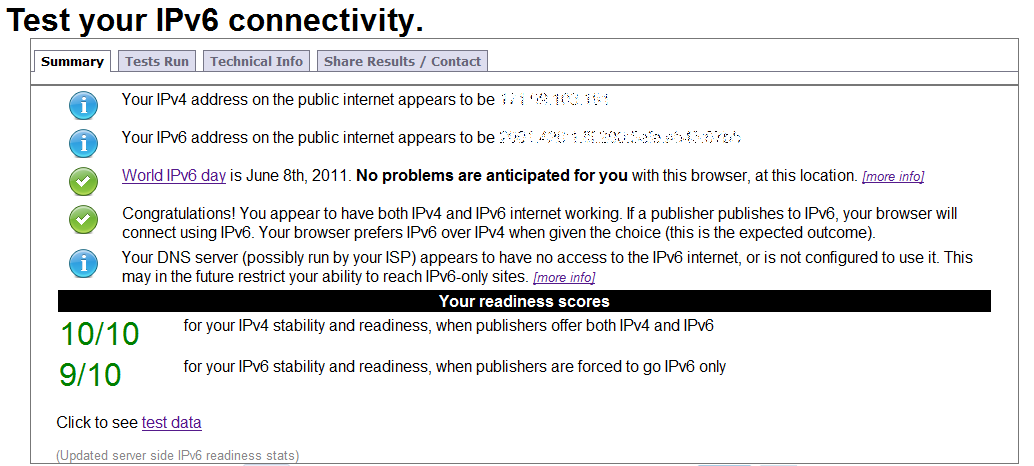 A typical failure screen looks like this: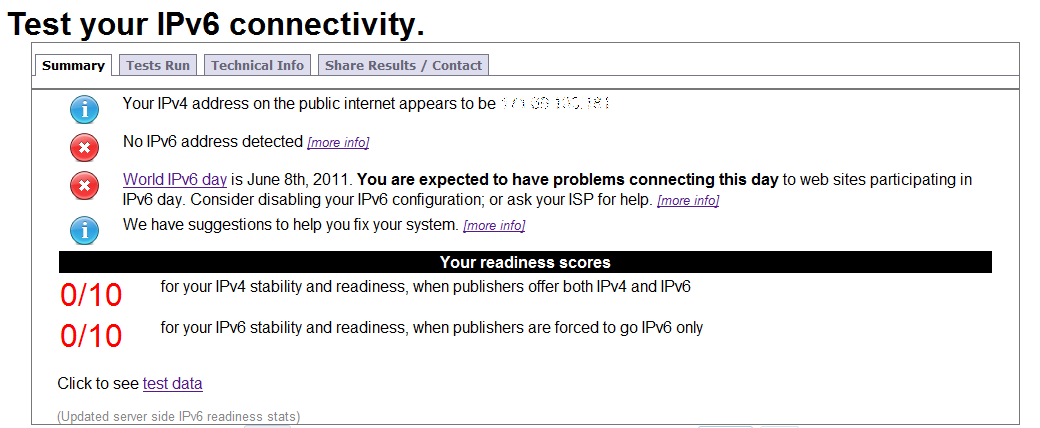 Note the test in bold. If you get the message No Problems are anticipated for you, your IPv6 connectivity is likely problem free.
If you get the message You are expected to have problems connecting this day, some IPv6 diagnostics will be needed to ensure you have no problems on World IPv6 Day.
We will be adding common diagnostic information to this document. Current external websites with good troubleshooting information include:
Hosting an IPv6 Web Site
To test to see if IPv6 capable users can reach an IPv6 capable web site by IPv6, try using the IPv6 website validator at http://ipv6-test.com/validate.php
Because Path MTU Detection (PMTUD) can be unreliable over internet connections, may websites set their IPv6 interface MTU to 1280. Large MTUs may result in hung connections if ICMP PTB (Packet to Big) messages are lost. See http://www.getipv6.info/index.php/Troubleshoot_IPv6_Issues#Test_PMTUD for some Path MTU testing tools.
Disabling IPv6

In the unlikely even that you cannot resolve your IPv6 network connectivity issues, you can disable IPv6 on your host to get connectivity working over IPv4. This path should be taken only as an an absolute last resort.
Yahoo has provided a help page that explains how to disable IPv6 at http://help.yahoo.com/l/us/yahoo/ipv6/general/ipv6-09.html.
Microsoft has published a quick fix to set a computer to prefer IPv4 over IPv6: http://support.microsoft.com/kb/2533454/
These measures should be considered temporary, and should be reversed once IPv6 connectivity issues are addressed.