Options
Mark as New

Mark as Read

Bookmark

Subscribe
on ‎07-16-2022 01:49 AM - edited on ‎10-21-2022 09:10 AM by
Tyler Langston


Cisco DNA Center Version 2.3.3 offers major usability benefits across all use cases. With the enhancements to AI Operations, Network Operations, DevOps, and SecOps, Cisco DNA Center provides the digital agility to drive network insights, automation, and security!
Together with EN Customer Success Specialist Kuba Zabiega, we have put together the table below to give you a quick look at the key features of this release.
Feel free to ask me any Cisco DNA Center Software upgrade question using the
button below the post.
If you want to stay up to date with our Software Compliance and key feature articles make sure to subscribe to the label 'Software Upgrades'!
Start planning your upgrade here: https://cutt.ly/DNAC233C2LP
| | |
| --- | --- |
| Feature Description | How does it compare to previous versions? |
| Inventory Visibility – Gain enhanced visibility into the lifecycle of your devices. Track End of Life dates for both hardware & software of your wired network devices, automatically updated every week! | Previously, the only way to track end of support was to manually investigate all End of Support notifications from Cisco. Now, Cisco DNA Center can generate EoS reports automatically for you. |
| Assurance – Get more value out of your existing 3D maps with the ability to view AP interference from adjacent floors. Additionally, you can see endpoint locations in 3D using DNA Spaces. | Previously, 3D maps were limited to visualizing the AP heatmaps per floor. Now, the additional context allows for considerably more accurate site planning and issue detection. |
| Security – Improve threat detection by letting Cisco DNA Center cross-check your network activity against TALOS's list of disreputable websites, allowing you to quickly target potentially compromised endpoints and automatically quarantine them. | Previously, Cisco DNA Center was able to identify potentially compromised endpoints by how they acted. Now, you gain an extra layer of defense with TALOS, and quarantining using Cisco ISE limits the damage a compromised endpoint can cause. |
| Integrations – Monitor every aspect of your network by combining Splunk's visualization capabilities with all the power of Cisco DNA Center. | Previously, there was no way to automatically pull data from Cisco DNA Center and display it within Splunk. Now, using the new Cisco DNA Center app on a Splunk Enterprise Server gives you ten fully customizable dashboards of Cisco DNA Centers' data within Splunk. |
The new EoX report allows you to track every stage of the lifecycle of your devices' hardware and software. From the original End of Sale announcement, all the way through End of Support, as shown in image 1 below.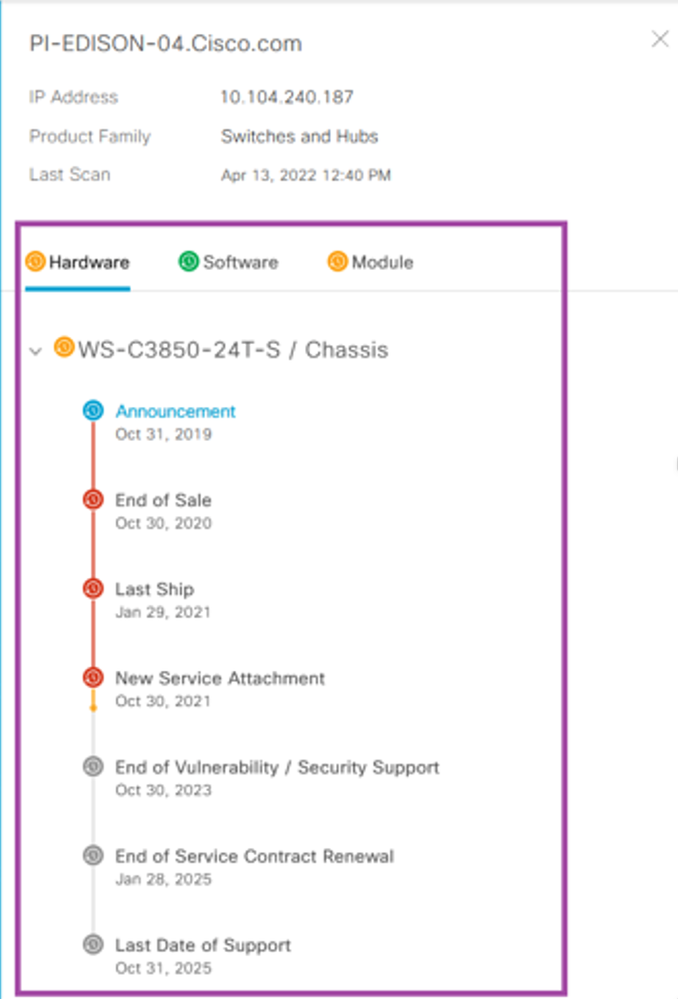 Image 1
With the enhancements to 3D maps that was introduced in version 2.2.2 of Cisco DNA Center, you can now view how the floors above and below your current floor impact RF Interference by seeing the contribution from neighboring floors. Take a look at image 2 below to see how it looks in practice.

Image 2
Trust scores have become even more accurate as Cisco DNA Center can now compare endpoint activity against TALOS's repository of low reputation sites (image 3) and update the trust score automatically based on the results. This update can be dynamically pushed to Cisco ISE to allow for automatic quarantine based on Cisco DNA Center's Trust Score (image 4).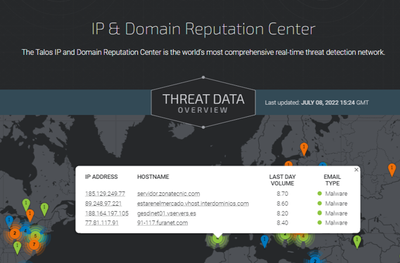 Image 3
Image 4
With the new Splunk integration you can now monitor nearly every aspect of your network all within Splunk by leveraging the existing data stored within Cisco DNA Center. You are given 10 fully customizable dashboards from the start which allow you to tune the views to exactly the information you are interested in. Image 5 shows one of the available dashboards.
Image 5
For a full list of changes, please take a look at the 2.3.3 Release Notes.
To experience these and all new networking capabilities, visit the Cisco DNA Center Upgrade Page and start planning your software upgrade to the 2.3.3 version.
Remember to use the
button below the post to ask me any questions you may have about upgrading to 2.3.3.x of Cisco DNA Center.