Cisco Employee
Mark as New

Mark as Read

Bookmark

Subscribe

Email to a Friend
Hank Preston and Jason Belk presented at Network Field Day 23 to a network engineer audience. Jason shared his personal journey from network engineer to automation evangelist, and how Cisco Network Services Orchestrator (NSO) drew him deeper into automation as a network engineer. He then demoed some of NSO's basic features on the CLI, showing how a network engineer could get started without having to learn any other coding skills yet. By watching this overview video, you will get a better idea of what Cisco NSO is and why it is relevant to network engineers.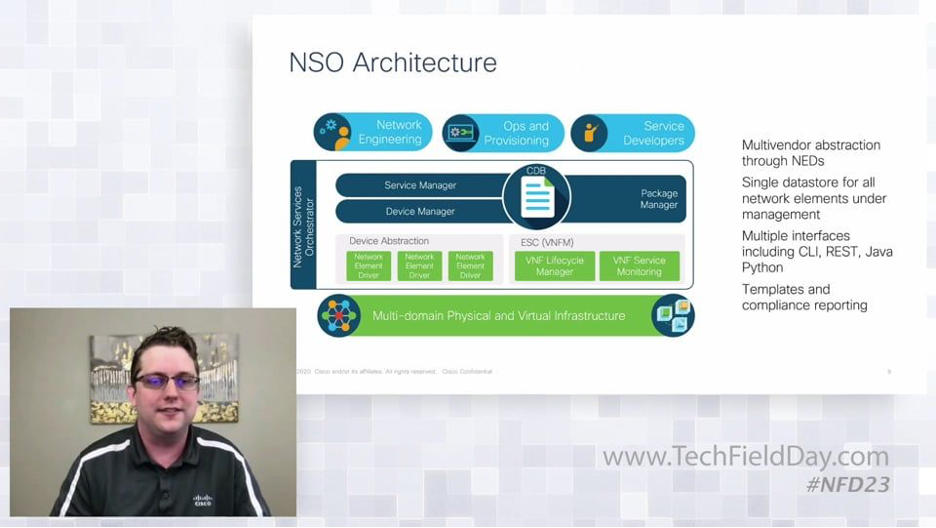 Hank shared how he is using Cisco NSO in the DevNet Sandbox team to manage a variety of network devices and other infrastructure components. He gave a live demo in his pre-production environment, creating a new service instance which provisioned configuration across a number of devices.
His service behind the scenes used Python code and Yang to enforce his network standards automatically, so an engineer consuming his service from another team would only have to provide a few basic inputs and Cisco NSO would handle all the rest. Hank's demo showcases some of Cisco NSO's more advanced features, and shows the sky is the limit in terms of what the product can accomplish after you learn the basics.
The session was lively and interactive, including questions about how Cisco NSO compares to Ansible and how does NSO handle configuration rollbacks. The panelists asking the questions represented a variety of engineers from different backgrounds not from Cisco.
Links:
https://techfieldday.com/video/cisco-network-services-orchestrator-architecture/
https://techfieldday.com/video/cisco-network-services-orchestrator-demo/
https://techfieldday.com/video/cisco-devnet-sandbox-network/
You must be a registered user to add a comment. If you've already registered, sign in. Otherwise, register and sign in.