Cisco Employee
Mark as New

Bookmark

Subscribe

Mute

Email to a Friend
Hello to all our OnPlus users!
Our recent upgrade last Saturday went very smoothly, and was accomplished in under 2 hours – less than what was originally planned.
We've upgraded the OnPlus portal to a new release, which introduces some new and exciting features we'd like to share with you..
Generic SNMP and IOS driver
To improve discovery for devices that are not currently supported by OnPlus, 2 generic drivers were added to OnPlus:
(1) a generic IOS driver for Cisco IOS devices
(2) a generic SNMP driver for non-Cisco devices.
These generic drivers are mainly helpful in device discovery and cross-launch via the portal. Note that these drivers don't yet support device configuration backup and restore and firmware upgrades via the portal.
To access these device drivers, locate the device in the topology view for the selected customer, open its Device Information window, click the Credentials tab, and choose Device Drivers.

2. Export Topology diagram to Visio
Many of you have asked us for an option to migrate the discovered Network topology diagram to Visio, so you can use it later on in proposals, technical specifications and general planning.
Now, you can easily export the topology view to an SVG format, and manipulate it as you please in Visio. Simply click the Export button and select 'Save as SVG (Visio)'.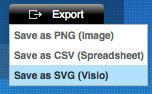 3. Support for Unified Communications Manager Business Edition 3000 (BE3000)
This release adds support for discovering and opening a remote connection to the Unified Communications Manager Business Edition 3000.
Note that Device configuration backup and restore, and firmware upgrades via the portal are not yet supported for this device.
As we march towards the holidays, we're working on some really exciting stuff, such as OnPlus Security – a specialized offering to help you manage security on your customers' networks more efficiently. This offering will include a set of security reports that are linked to Cisco next generation Unified Threat Management Appliance.
More info to come in the next few weeks!
In addition, following many requests from you, we're working on introducing a 'customer view' of OnPlus, so you can give your customer a read-only access to his/her network.
An improved executive summary is in the works, along with a Network Health score, which OnPlus will calculate for you, to give you an indication of your customer networks' overall health – so you know what works, and what can improve.
As always, please let us know your thoughts. Our top 10 list of desired features is available here, and we encourage you to comment, and/or suggest new requests.
We'd love to hear for you!
Cheers!
The OnPlus team