Cisco QSFP 40/100 SRBD transceiver compatibility check with Mellanox ConnectX5 100Gb Adapter (MCX516A-CDAT)
Options
Mark as New

Bookmark

Subscribe

Mute
‎06-21-2021 09:21 AM
Hello,
I am new on networking and I need help from community if possible.
I have a pair of Cisco QSFP 40/100 SRBD bi-directional transceivers that installed on Mellanox ConnectX5 100Gb Adapters, connected them via an OM5 LC type 1M (or 3M) fibre cable.
My two servers back-to-back setup is working fine with the 100Gb speed link testing (have linked; LEDs both sides are on, good test result with iperf test ultility). However whenever I tried to switch the same setup to 40Gb speed testing (via ethtool commands ethtool -s enp59s0f0 autoneg off speed 40000), I have no linked between both adapters.
The 100Gb or 40Gb speed testings were working fine on others 100Gb transceivers (Arista, Finisar, Intel,...or 100Gb DAC)
Thanks
Options
Mark as New

Bookmark

Subscribe

Mute
‎06-21-2021 09:31 AM
@ThinhTa : yes it is compatible, check below link
https://docs.mellanox.com/display/ConnectX5Firmwarev16264012/Firmware+Compatible+Products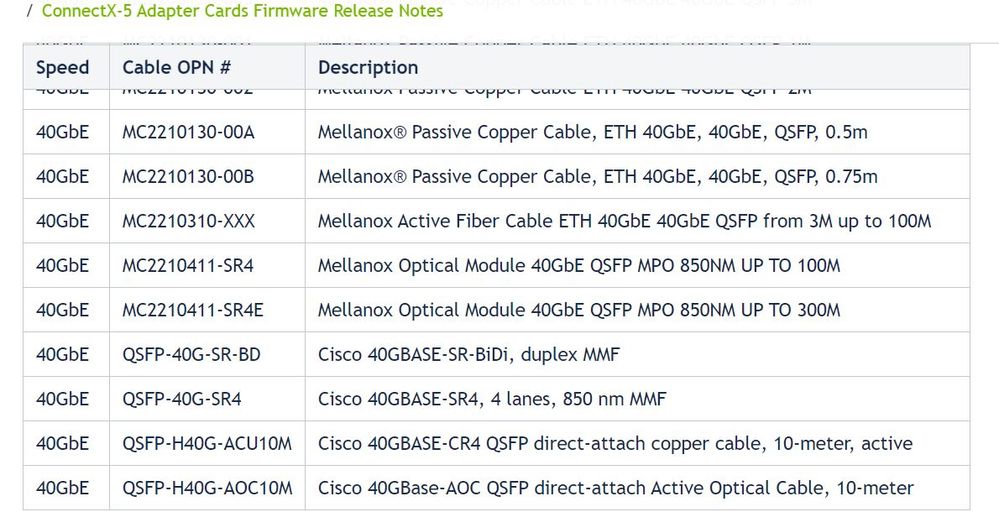 Options
Mark as New

Bookmark

Subscribe

Mute
‎06-21-2021 12:27 PM
Hello,
I currently have an opened ticket with Mellanox on that issue.
They argued for that transceiver only support for 100GB and refused to elaborate for 40GB speed support also refused to explain why the 40Gb did not work since they don't have the transceiver on hand.
Thanks,
Thinh


Options
Mark as New

Bookmark

Subscribe

Mute
‎06-21-2021 12:59 PM