Beginner
Mark as New

Bookmark

Subscribe

Mute

Email to a Friend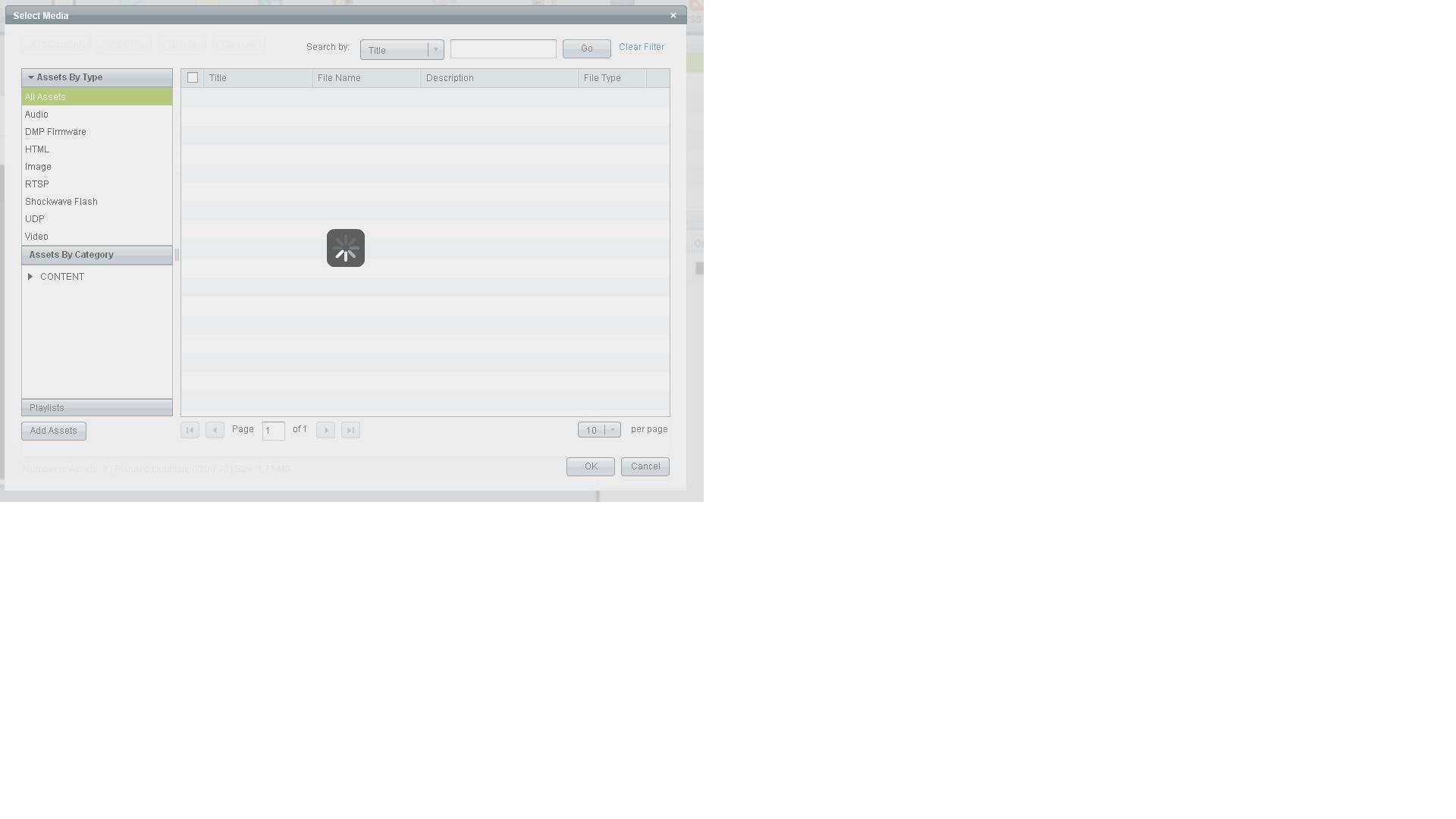 We just upgraded to 5.2.1 and after creating a new user with the appropriate rights, they get this when trying to add content to a playlist within a presentation.
I have created a 2nd user with the same problems. None of my previous users (before 5.2.1) are having any problems. Any ideas?
1 ACCEPTED SOLUTION
Beginner
Mark as New

Bookmark

Subscribe

Mute

Email to a Friend
Melissa,
I wanted you to select the checkbox in the Row - "Selected" and Column - "Read" and make sure only one folder is selected for the user.
Per my understanding you might be hitting a flavor (not exact match) of known defect DDTS#CSCti18918 that is going to be addressed in DMM 5.2.2 release (Exact ETA for which is not known yet but it is supposed to be out within 1-2 weeks from today).
The issue you are facing is varying since
Below are the release notes :

Problem Description :
This problem is not present in 5.2.  A user has to be configured the following way in order to reproduce the problem:
From DMM GUI >> Digital Signs >> Settings >> User Accounts / User List when we select a user, select the Role = Content Manager and the Objects Create/Read/Write/Delete with "Objects" selected to "All" or "Selected" and mark multiple folders. If only one folder is selected we don't see the issue.

Symptom:
Signs user unable to create content on Digital Media Designer due to the Select Media screen being frozen with a spinning cursor.

Conditions:
DMM 5.2.1 Signs User must have more than one folder selected in the "Content Groups Permissions" setting found at Digital Signs >> Settings >> User Accounts / User List (Role = Content Manager)

Workaround:
So far selecting only one folder in the "Content Groups Permissions" when configuring the user bypasses the frozen Select Media screen but all the content may not be available as expected (i.e. the content available on the sub-folders) 

or Make the user as "Admin" until the release of 5.2.2



Let me know if you have any questions. 

Regards,

Sagar Dhanrale


[Wrap text]
[Edit this enclosure]
Release-note: Added 08/03/2010 11:40:23 by fbergamo
[Unwrap text]
[Edit this enclosure]
Release-note: Added 08/03/2010 11:40:23 by fbergamo
[UnWrap text]
[Edit this enclosure]
screenshots: Added 08/03/2010 12:22:36 by fbergamo
[Wrap Text]
[Edit this enclosure]
screenshots: Added 08/03/2010 12:22:36 by fbergamo