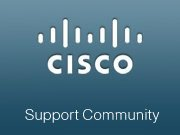 Community Manager
Mark as New

Bookmark

Subscribe

Mute

Email to a Friend
Ask Me Anything- Cisco HyperFlex: Installation, Upgrade and Troubleshooting
This topic is a chance to clarify your questions about Cisco HyperFlex installation, upgrading and troubleshooting best practices. During the session Cisco experts will answer questions about how to upgrade, install and troubleshoot common issues on Cisco HyperFlex, including cluster Expand Problem.

Questions related to general issues seen in the HyperFlex environment are also welcome and encouraged.
To participate in this event, please use the

button below to ask your questions
Ask questions from Monday 13th to Friday 24th of January, 2020
Featured experts
Afroj Ahmad
is an Escalation Engineer on the CX-HTEC Server Virtualization Team. He has thirteen years of experience working with large enterprise and service provider networks. Afroj specializes in Data center and Network Management solution, including; Cisco HyperFlex, UCS-B and C series, Cisco Nexus 5000, Nexus 3000, Nexus 2000, Nexus 1000, Nexus 9000, MDS, SNMP, LMS and Prime Infrastructure. He holds a master's degree in computer application. Afroj holds the CCDP, VCP 6 (VMware Certified Professional), CCNP R&S, Cisco Certified Hyperflex systems Engineer, ITTL v3, SCJP (Sun Certified Java Professional) and a CCIE DC certification (#49873).
Aasim Mohamed
is a Technical Consulting engineer on the Server Virtualization and Storage team. He has ten years of experience working with Data Center Technologies. Aasim specializes in UCS-B and C - series servers, UCS-FI, HX, Nexus 2000 and 5000, MDS, VMware vSphere 5.5 to 6.7 suite - Installation, Configuration and Troubleshooting-, HPE servers / ML, DL and Blade line products. Aasim holds a degree in Engineering and Electronics. He holds the Cisco Hyperflex for system engineers and VCP (VMware Certified Professional) certifications.
Afroj & Aasim might not be able to answer each question due to the volume expected during this event. Remember that you can continue the conversation on the Data Center community.
**Helpful votes Encourage Participation! **
Please be sure to rate the Answers to Questions