Ask the Expert: Cisco Data Center Overlays with Focus on VXLAN
Options
Mark as New

Bookmark

Subscribe

Mute
‎09-11-2015 02:41 PM - edited ‎03-01-2019 08:01 AM
Welcome to this Cisco Support Community Ask the Expert conversation. Cisco Data Center Overlays with focus on VXLAN (Virtual Extensible Local Area Network) to Vishal Metha.
Ask questions from Tuesday October 20, to Friday October 30, 2015
In the modern data center, traditional technologies are limiting the speed, flexibility, scalability, and manageability of application deployments. There is emerging interest in the industry in overlay technologies (such as MPLS, VXLAN, LISP...) which may address some of these challenges. This session will discuss the latest trend in Overlay Technologies and compare each one of the available solutions in terms of deployment, benefits and challenges. The major emphasis in this session will be on VXLAN evolution and to elaborate on which Cisco Products support different VXLAN solutions. Various VXLAN configurations such as BGP-EVPN control plane, L2 Gateway, L3 Gateway; Bridging, Packet-Flow, Best Practices, Deployment scenarios and other advanced features will be also discussed.
Vishal and Pranav will be helping you with all your queries on all of the above.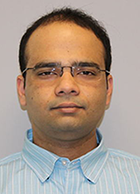 Vishal Mehta is a Technical Marketing Engineer with Cisco's Data Center Competitive Insights Team based in San Jose, California. Previously he was working as the customer support engineer for Data Center Server Virtualization Technical Assistance Center (TAC) team for the past 4 years with a primary focus on data center technologies such as Cisco Nexus® 5000, Cisco UCS, Cisco Nexus 1000V, and Virtualization. He has CCIE® certification (# 37139) in Routing/Switching, Service Provider & Data Center. Vishal has presented at Cisco Live in Orlando 2013, Milan 2014, and San Francisco 2014 (BRKCOM-3003, BRKDCT-3444, and LABDCT-2333).

Pranav Doshi is a Technical Marketing Engineer with Cisco's Data Center Competitive Insights Team based in San Jose, California. Pranav has been with Cisco since 2010, starting off as a Team-Lead Technical Support Engineer in the LAN-Switching team working on Catalyst 37XX/45XX/65XX and Nexus 2K/3K/5K/6K/7K/9K platforms. After working in Cisco TAC, Pranav worked in Cisco Advanced Services as part of the Data Center Solutions Team for Cisco's Enterprise Customers. During his stint with Cisco AS, Pranav designed data centers with Nexus Standalone deployments leveraging technologies like Fabricpath, OTV as well as ACI deployments.
Find other https://supportforums.cisco.com/expert-corner/events.
Because of the volume expected during this event, Vishal or Pranav might not be able to answer every question.
**Ratings Encourage Participation! **
Please be sure to rate the Answers to Questions