Highlighted

Beginner
Mark as New

Bookmark

Subscribe

Mute

Email to a Friend
2 ACCEPTED SOLUTIONS
Highlighted
Cisco Employee
Mark as New

Bookmark

Subscribe

Mute

Email to a Friend
Hi Victor
From the article you can see that idea is to not to yse routing over VPC links (not vpc peer-link)
So you'r n7k can form adjacency via peer-link, but using separate l3 link between n7ks is more recommended option.
But you need to remember that you cannot peer with any device which is connecter via VPC to your n7k cluster.
Also in your design both ISP routers are orphan, which means that in case of failure of the peer-link one router will become unavailabe for all vpc members. And in case of failure both - vps peer-link and keep-alive link both routers will forward traffic for your AS.
This is your design:
http://bradhedlund.s3.amazonaws.com/2010/L3-over-vpc/L3-over-peer-link-3-2.png
HTH,
Alex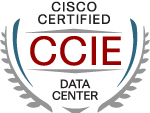 Cisco Employee
Mark as New

Bookmark

Subscribe

Mute

Email to a Friend
Hi Lim,
You are correct. That is why there is a recommendation to create an adjacency across a seperate link or non-vPC port-channel because it does not share the same loop prevention mechanisms. Anytime a packet crosses a vPC peer-link, the loop prevention mechanism prevents the packet from then being forwarded back onto a vPC. Configuring Vlan10 in the trunk allowed list of the vPC peer-link and then allowing BGP to form a neighbor relationship across it will result in routes with next-hops that require utilizing the peer-link to forward traffic. This is a no-no if your traffics destination sits behind a vPC.
HTH
Anthony