Beginner
Mark as New

Bookmark

Subscribe

Mute

Email to a Friend
Question VXLAN / DCNM configuration with VSS 6800
I am building a VXLAN environment using 9ks and configuring MP-BGP EVPN for my new Datacenter for relocation.
The VXLAN side in theory everything looking good.
However, I have the issue of -- how "overlay" connection with my existing office running Catalyst VSS Port-channel with layer 2 and layer 3 interfaces.
My office running Catalyst VSS core, traditionally it is connected with dual Layer2 WAN with port-channel to my DC running VSS as well. In this port-channel, we bundled multiple Layer 2 VLANs (some flat LAN design) and layer 3 (for routing) across office and DC.
Now with Nexus VXLAN, we need to use VPC for sure, since we cannot use 2 x layer 3 connection since we need to extend our VLAN with dual-link.
I learned that on leaf border, I can use a command advertise l2vpn evpn to redistribute the "overlay" route to the outside world. but all DCNM document just mentioned how easy to connect to another VXLAN but did not mention how to connect with existing non-VXLAN network especially in a port-channel environment.
is that any example on DCNM to config a VXLAN to hook up with a traditional port-channel with layer 2/3 network with VPC?
Current topology
The topology I want to achieve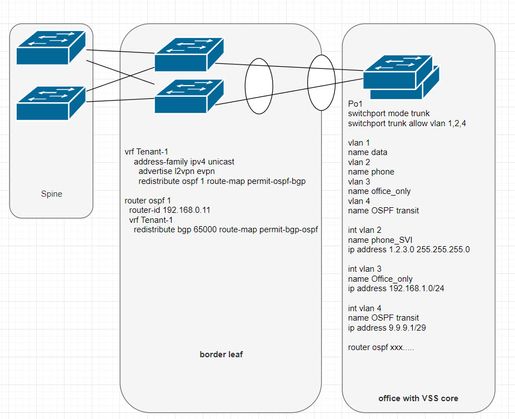 I