Highlighted
Beginner
Mark as New

Bookmark

Subscribe

Email to a Friend
Bridge and Routing with HSRP
I have a Problem with Two 6009 Switches and Two MSM
with HSRP. I must Routing and Bridge on the MSM.
The Bridge is for SNA Gateways and the Trouble is
the second MSM become on a not defind time no answer from the Primary MSM and goes Up
I have at this Time Two Primary MSM and this Destory the Spanntree. The Protocol on the MSM is DEC and the IOS is 12.0(1a)WX5(6g).
Thanks for Help by my Problem
PS Sorry for My horrible English
1 REPLY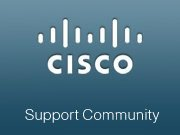 Rising star
Mark as New

Bookmark

Subscribe

Email to a Friend
Re: Bridge and Routing with HSRP
Often times complex troubleshooting issues are best addressed in an interactive trouble-shooting session with one of our trained technical assistance engineers. While other forum users may be able to help, it's often difficult to do so for this type of issue.
To utilize the resources at our Technical Assistance Center, please visit http://www.cisco.com/tac and to open a case with one of our TAC engineers, visit http://www.cisco.com/tac/caseopen
If anyone else in the forum has some advice, please reply to this thread.
Thank you for posting.